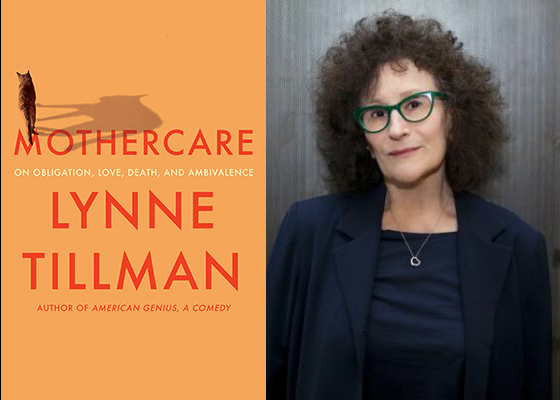 Lynne Tillman, author of "Mothercare: On Obligation, Love, Death, and Ambivalence"
Lynne Tillman, award-winning author and UAlbany English Professor/Writer-in-Residence, presents her new book, MOTHERCARE: On Obligation, Love, Death, and Ambivalence (2022), an unflinching account of the painful experience of becoming caregiver to a very difficult parent. The Boston Globe said, "Masterfully-wrought . . . [A] stunning story of caregiving, with its questions of obligation and ethics and what it means to care for someone who, perhaps, didn't care for you."
Lynn Tillman in conversation
4:30 p.m. Tuesday, February 7
Campus Center West Boardroom
University at Albany
1400 Washington Avenue
Albany NY 12222
Free and open to the public
Her previous books include the novel, No Lease on Life (1998), a finalist for the National Book Critics Circle Award, and What Would Lynne Tillman Do? (2014), a finalist for the National Book Critics Circle Award in Criticism.
The Boston Globe
"Masterfully-wrought . . . [A] stunning story of caregiving, with its questions of obligation and ethics and what it means to care for someone who, perhaps, didn't care for you."
The Nation
"What spurred Lynne Tillman to write Mothercare, her first work of memoir, is in many ways a mystery. In a long and prolific career of writing fiction, criticism, and essays, she has avoided personal writing and does not seem to feel liberated by it now. 'I have strong reservations about doing it,' she writes, 'and now I am doing it.'"
The New York Times
"[Tillman] says she didn't love her mother, even if she sometimes tried to imagine she did, clinging to an illusion in order to cope. She quotes an email to a doctor in which she refers to 'Mom,' but in this book her mother is invariably 'Mother'; the formality suits the woman of Tillman's memories — matter-of-fact, competent, orderly. 'I had respect for her smarts or canniness and practicality,' Tillman writes, in an attempt to give her mother her due. 'From the age of 6, I had disliked my mother, but I didn't wish her dead.'"
Cosponsored by the UAlbany School of Social Welfare in association with the Internships in Aging Project, and the English Department's Creative Writing Program and Young Writers Program.