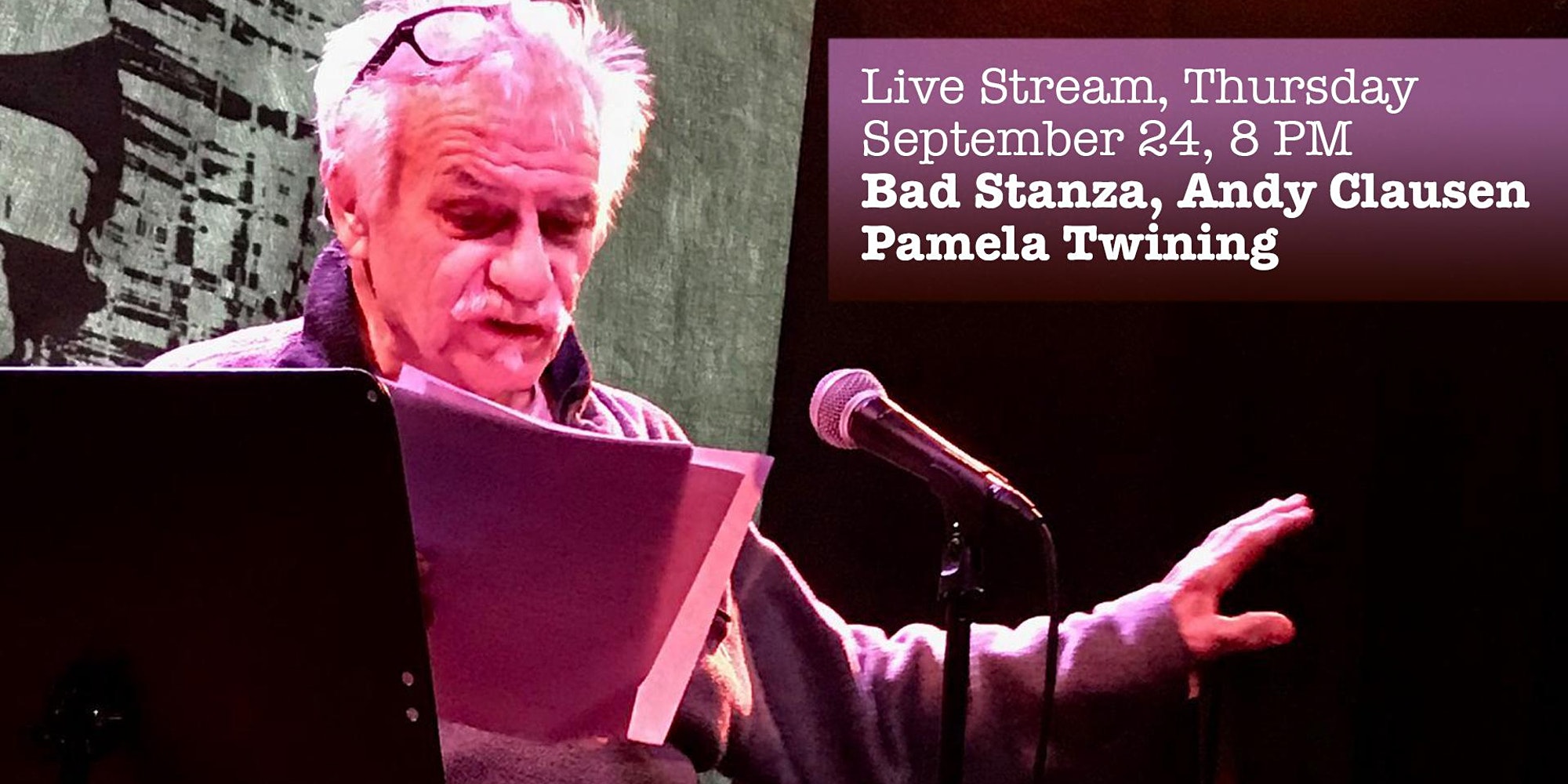 Green Kill Live Stream Featuring Stanza, Clausen, Twining
Green Kill Live Stream presents three poets, Bad Stanza, Andy Clausen, and Pamela Twining on Thursday, September 24 at 8 PM, broadcast on Youtube.
To gain access, go to https://www.eventbrite.com/e/green-kill-live-stream-september-24-8-pm-stanza-clausen-twining-tickets-121619291575
We are all living with this new normal. The economic impact on the performing artist community has been devastating. Green Kill live streaming events are accessed by making a donation on Eventbrite. The eventbrite system requires that you contribute a minimum of 1 dollar. All proceeds are divided equally between the performers and Green Kill. Green Kill is able to bring this live stream to the public at great personal cost. Please help us to keep this quality program going.
Bad Stanza is a poet born on Earth Day and raised on Earth. He started writing poetry at the age of 19 while living on Long Island and has since performed his entirely unpublished works at galleries and venues all over New York including Bradstock Music Festival, The Parkside Lounge (NYC), and the historic Walt Whitman Birthplace. He now resides in the Hudson Valley and spends his waking hours tending to his gardens and stacking stones, hoping to one day grow into a being of true balance, himself.
Andy Clausen has traveled and read his poetry all over North America and the world. (New York, California, Alaska, Texas, Prague, Kathmandu, Amsterdam and elsewhere) He was co-editor of POEMS FOR THE NATION with Allen Ginsberg and Eliot Katz (Seven Stories Press). He was an editor at LONG SHOT Magazine. Andy has written about his adventures with Allen Ginsberg, Gregory Corso, Ray Bremser, Janine Pommy Vega, Peter Orlovsky, and many others of the Beat Generation. He is the author of "40th Century Man" and "Home of the Blues", among other books of poetry. His latest book, "Beat: The Latter Days of the Beat Generation, a First Hand Account" was published by Autonomedia in fall of 2018. He is currently working on a book about his backpacking travels around Asia and Europe as well as a new volume of poetry.
Pamela Twining has traveled the US with her partner, poet Andy Clausen, performing her work in California, Colorado, New York City, Michigan, Wisconsin and places in between. Her work has appeared in Big Scream, Big Hammer, PoetryBay, The Café Review, Napalm Health Spa, and Heyday!, among others. With Andy Clausen, she is co-curator of "The Invisible Empires of Beatitude" page at The Museum of American Poetics (www.poetspath.com) and for several years, she co-produced the Janine Pommy Vega Poetry Festival in Woodstock, NY, where she and Clausen reside. She is author of four chapbooks, "i have been a river…"(2011), "utopians & madmen" (2012), "A Thousand Years of Wanting; the Erotic Poetry of Pamela Twining" (2013) and "Renegade Boots" (2019). A book of Selected Poems will be published in 2021 by Endpaper Press.