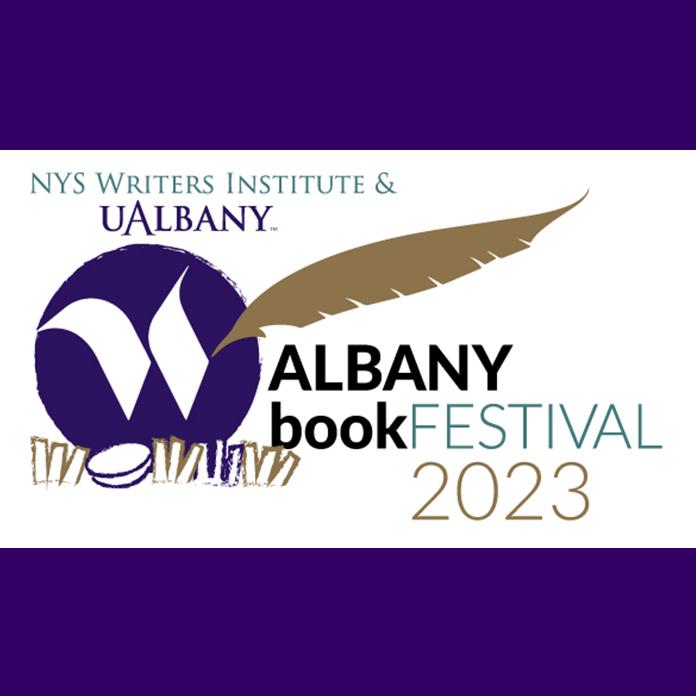 Albany Book Festival
The 6th Annual Albany Book Festival will feature conversations with bestselling authors, panel discussions, readings, book signings, a children's room with authors and fun activities, a meet and greet with nearly 100 local authors, and an exhibitor floor.
(Four online workshops will take place in advance of the book festival.)
6th Annual Albany Book Festival presented by the NYS Writers Institute on Saturday, Sept. 23, 10:30 a.m. to 5 p.m.,  at the University at Albany. Free and open to the public.
Featured authors include:
Annie Proulx — Fen, Bog, and Swamp, the short story "Brokeback Mountain" and The Shipping News
Andre Dubus III — House of Sand and Fog Such Kindness
Susan Faludi — In the Darkroom, Backlash: The Undeclared War Against American Women
Angie Cruz — Soledad, Dominicana, How Not to Drown in a Glass of Water
Kate Fagan and 3-time Olympic gold medalist/8-time WNBA All-Star Seimone Augustus — Hoop Muses: An Insider's Guide to Pop Culture and the (Women's) Game
Jeff Shaara — Gods and Generals, The Eagle's Claw, The Old Lion
Jai Chakrabarti — A Play for the End of the World
Ava Chin — Mott Street: A Chinese American Family's Story of Exclusion and Homecoming
Kate Cohen — We of Little Faith: Why I Stopped Pretending to Believe (and Maybe You Should Too)
Howard Fishman — To Anyone Who Ever Asks: The Life, Music, and Mystery of Connie Converse
Sidik Fofana — Stories from the Tenants Downstairs
Kellye Garrett — Hollywood Homicide
Karen Baum Gordon — The Last Letter: A Father's Struggle, a Daughter's Quest, and the Long Shadow of the Holocaust
Mary Gordon — The Shadow Man: A Daughter's Search for Her Father
Jennifer Haigh — Mercy Street
Daniel Halpern — legendary publisher at Ecco Press for 50 years, was Russell Banks' longtime editor and personal friend
Jimin Han — The Apology
Nell Irvin Painter — Standing at Armageddon: The United States, 1877-1919; Sojourner Truth; Southern History Across the Color Line; Creating Black Americans; and The History of White People
Elizabeth Passarella — Good Apple: Tales of a Southern Evangelical in New York
Serhii Plokhy — Good Apple: Tales of a Southern Evangelical in New York; The Gates of Europe: A History of Ukraine
Greg Steinmetz– American Rascal: How Jay Gould Built Wall Street's Biggest Fortune
Kim van Alkemade — Orphan #8 ; Counting Lost Stars
Amy Wallen — How to Write a Novel in 20 Pies: Sweet and Savory Tips for Surviving the Writing Life
Gary Weiss — Retail Gangster: The Insane, Real-Life Story of Crazy Eddie
Valerie Wilson Wesley — former executive editor of Essence magazine, author of the bestselling "Tamara Hayle" mystery series, and
Carmen Rita Wong — Why Didn't You Tell Me?