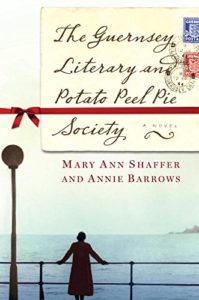 Sometimes, if you are lucky, you read the right book at the right time. The Guernsey Literary and Potato Peel Pie Society by Mary Ann Shaffer and Annie Barrows was one of those books for me. But more about that later.
I recently read the book because the film is coming out this Spring. It is sort of a mini Downton Abbey reunion with Lily James (who played Rose), Jessica Brown Findley (Lady Sybil), Penelope Wilton (Isobel Crawley) and Matthew Goode ( Henry Talbot) all in major roles. It also has the great Britsh actor Tom Courtney.
The book, which is made up of a series of letters, starts after WW2 is over with. Juliet Ashton is an author of a successful book of comic essays called Izzy Bickerstaff Goes to War. She gets a letter from Dawsey Adams, a man living in Guernsey who said he has her old copy of the Selected Essays of Elia, the pen name of Charles Lamb. Juliet' s name and address are on the inside cover and he asked her if she can help him find a biography on Lamb, and so starts a friendship between Juliet and the people from the Literary Society.
For five years, starting on June 30, 1940, the island of Guernsey, which was under British rule, was invaded and occupied by Nazi Germany. The Germans thought that the island was strategic in invading Great Britain. For the next five years, the British citizens of Guernsey lived under German rule. The islanders were not allowed any news, and supplies were cut off by the British Navy. The children were allowed to leave so they could live with British families on the mainland. For five years the natives had to live off the land.
One night, Amelia Maugery had to get rid of a dead pig without giving it up to the Germans to feast on, so she had a roast and invited her neighbors. Later that night, some of the neighbors were caught breaking curfew, but Elizabeth Mc Kenna saved the day, telling the Germans that they were coming back late from a literary society meeting and that's how the Society was started.
What was interesting was that all the people who took part in the book club were not typical readers. They were laborers, farmers, fishermen, people who worked with their hands and off the land. They weren't academics arguing about the latest book by Virginia Woolf. They were not up on writers of the day like D.H. Lawrence or W. Somerset Maugham. They worked long hours and didn't have a lot of free time to read. Still, many found a comfort in books, so they could endure the stress of living under German rule.
I could relate in a way to the main theme of books helping you through hard times. When I was growing up a bullied kid during middle school and high school, I found comfort in reading Agatha Christie or Ray Bradbury novels. When I was reading this particular book, my cellulitis on my right leg came back. It usually comes in the Winter months. I was lucky this year because I was already on antibiotics for a cold. Still, it is always unsettling to look down at your red leg as you wonder if eventually, you will have to go to the hospital. I felt as if my leg was "under siege". Although my leg has since healed, I was glad I had this book to help get me through this time
Now, this book can be a bit predictable in parts. You know early on what man Juliet is going wind up with. You have a feeling that Elisabeth is not coming back from a German slave camp. You can also predict which character is gay. Still, I found reading The Guernsey Literary and Potato Peel Pie Society extremely entertaining as well as being a great comfort to me during my health crisis.