On Thursday, April 27, host Leslie Gerber and New World Writers Night present poets Elizabeth Gordon and Jay Wenk as the featured readers.
Readings take place at New World Home Cooking, 1411 Route 212, between Woodstock and Saugerties. This reading will begin promptly at 7, so please arrive by 6:30 for dinner. Readings include an open mic (5 minute limit) which can be poetry or prose. No admission charge; we take a voluntary collection for the writers. Attendees who wish to have dinner before the reading can call 845-246-0900 for reservations.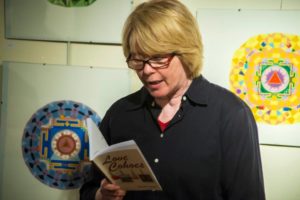 Elizabeth Gordon lives at the confluence of the Mohawk and Hudson rivers and works as a college adjunct teaching writing and literature courses. She represented New York City's Urbana Slam at the 2014 Women of the World Poetry slam and earned a spot on Albany's first and most recent Nitty Gritty Slam teams. Her work has appeared at Moonshot, [Pank], Salon (under Kathryn Gordon), SlamFind and elsewhere, with a poem "I Do" forthcoming at Button Poetry. She is the author of the poetry collection Love Cohoes and the nonfiction narrative Walk with Us, Triplet Boys, their Teen Parents and Two White Women who Tagged Along, which won an Indie Book Award.
Jay Wenk says: "I've passed my 90th birthday, I've become a vet of WW2, I've retired, without a bank account, as a Cabinet Maker, I'm still a small town politician. I'm appalled, to put it nicely, at our Military budget and our history of interfering in other nations' business and the slaughtering of other people around the world, going back to when the first colonists arrived here and began the wiping out of Native Americans, and I struggle against the sophisticated fascism we live under. I started to learn to write about four years ago." He is also author of the war memoir Study War No More.