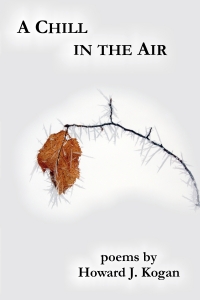 The Book launch for A Chill in the Air by Howard J Kogan will now be held on Sunday, January 29, 2017 at 3:00PM at Old Songs 37 S Main St, Voorheesville, NY 12186.
Howard J. Kogan is a psychotherapist and poet. His poems have appeared in numerous magazines, poetry journals and collections. Of A Chill in the Air, his third collection, Howard says, "readers familiar with my earlier publications will see some of the same themes continued: family and friends, the so-called real and imaginary world I inhabit, and increasingly as I age, poems about aging and death. I wrote these poems for you, to engage and seduce you, to draw you close so I would feel less alone."
Attendees of this reading and book launch are welcome to read a poem of their own.  Howard will then read from his new book and there will be a Q & A.
Food and Drink too and copies of the new book at the special reduced price of $10.