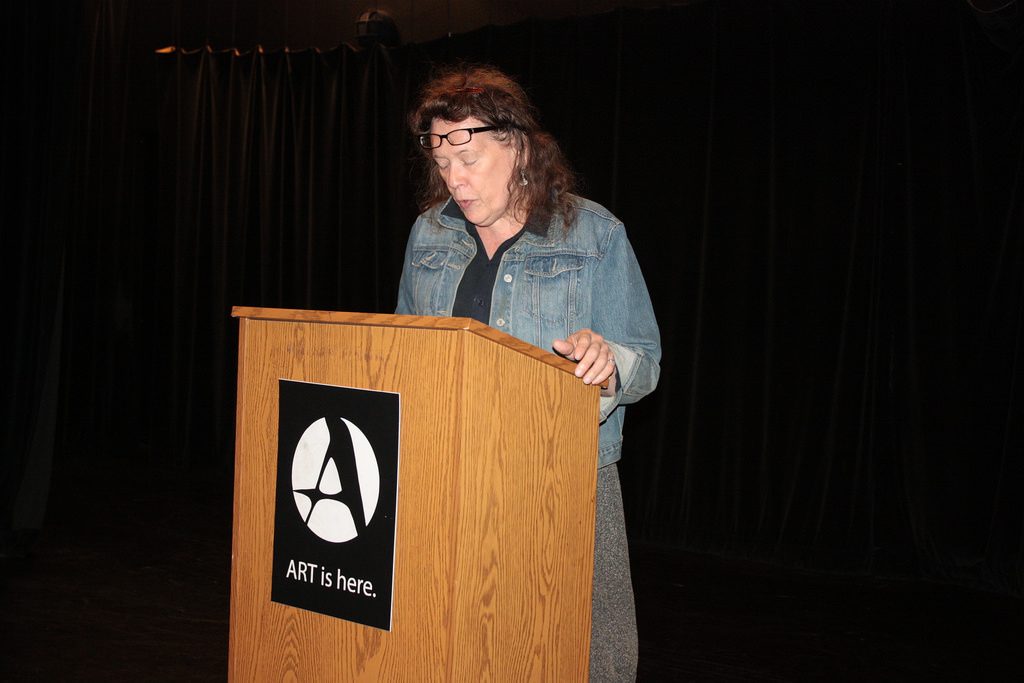 Karen Fabiane was born in 1949 in NYC and grew up on Long Island.  Under a different name, she was part of the Manhattan downtown scene during the 1970s, making music, writing & performing poetry, and painting.  Her work has been published in 2, Bound, Coal, Delaware County Times, Home Planet News, Newsletter Inago, MisFit, Momoware, New Voices, OM, Poetry Motel, RagShock, Salonika, Title I, Torture House USA, and four different anthologies released by Bright Hill Press, which also published her book, Dancing Bears, in 2011; a 2nd book, Seeing You Again, was published by Grey Book Press in 2014.  Her paintings have been exhibited in Seattle, New York City, Washington, DC, and the Capital District of New York (Albany environs) since 1978.  Karen recently won a Special Founder's Award in the Stephen A. DiBiase Poetry Competition (2016), for her poem "Now, morning …".  Moved from Brooklyn to Delaware County (NY) in 1989, she currently lives in Troy.
Ellipses
a message explicit
with curiously hushed integrity
but in between …
… i don't know,
can't figure how to get past …
… the emotional ambience & can only imagine …
… she'll be there … or who'll
be waiting …
… or what to wear, if the time'll be right, contemplating no more
than a rudimentary portrait right now …
… someone's else song to make another from
about perhaps a long bus trip
spent looking out the window waiting for somewhere
seeming familiar & feeling relieved
its not extraordinary … when we get there … or maybe
receiving a drawing of someone in the mail which sez (y'know speakz)
'this is me … where weuz you?'…
… not much than some persistence of fondness …
someone's reflection & her's on you …
borrowing another's kisses
to describe festivals of the heart, as one …
keeps thinking 'you're a fool, afool … fool, yera foool,' of oneself & everyone …
keepz nodding
though you haven't said anything yet …
The Rest of Us…
… are free to create our own.
All heavens exist;
there is no uniform code …
by jilltrain …
by jellydoll …
by immoderation …
by thief or hooky …
by the gentle brook of her subsided glance …
her paralogy of embrace …
her mostly good lack of temperance …
her face …
aLL hEAVENS.  Some angel
once known told me god said so
herself
as they were one morning
washing the breakfast dishes.