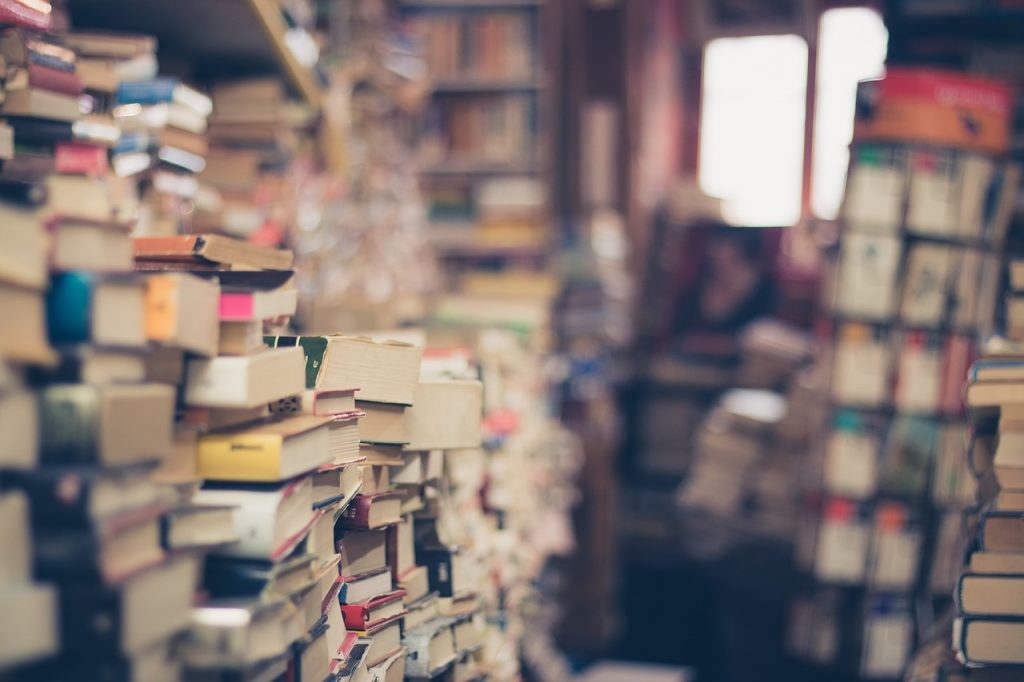 I have been watching Book Tube, a community on YouTube dedicated to books, for over a year now and one of the mainstays in that world is the book haul video. Basically, it's where the Book Tuber holds up books they bought or were given recently. It's usually done as a monthly event. Some it can come off as narcissistic, as if they were saying "Look how many books I bought this month!" However, Josh from Literary Gladiators, takes a different approach. He uses the book haul video to promote local bookstores near him. He made a great video about supporting independent book stores.
In this spirit, I'd like to do a Book Haul blog about books I bought recently at a sidewalk sale in front of The Book House at Stuyvesant Plaza. The proceeds go to the Alliance for Positive Health, an organization that helps people with AIDS, a cause near to my heart. They are having another book sale at the same place on Saturday, August 27, so I am glad I can help promote them.
I wound up buying 12 books, schlepping them in the hot sun onto two buses. It was a workout, although I put some of them in my backpack that day. So, here now are the books I bought:
The 20th Century Art Book, published by Phadion Publishing. I recently bought The Big Art Book by the same publisher in San Francisco. This is a companion book has some of the famous artists such as Pablo Picasso, Salvador Dali and Andy Warhol but it also has lesser known painters like Franz Marc and Dorothea Tanning.
The Phantom of the Opera by Gaston Leroux. I am familiar with the Andrew Lloyd Webber musical but I've never read the book.
The Hamlet by William Faulkner. I have had mixed results with Faulkner. I loved As I Lay Dying but had trouble getting through Absolom, Absolom. I only got to the second page of The Sound and The Fury. I thought I might give him another try.
24 Favorite One Act Plays edited by Bennett Cerf and Van H. Cartmell. I keep on saying I would like to read more plays. I read more of them when I was younger, when I thought I was going to be an actor. I thought this book would give me some inspiration to do so. It has plays written by Oscar Wilde, Anton Chekhov, Arthur Miller and other playwrights. It also has the last play I was in, a college production of Ring Lardner's The Tridget of Greva.
Antic Hayes by Aldous Huxley. I read Brave New World when I was out of college and I promptly forgot about it. I don't remember much about it. However, I finally read a couple of years ago his book Point Counter Point and loved it. It was more a book of ideas rather than a well plotted yarn. It was a brilliant, satirical look at rich people in London in the 1920's. I've been wanting to read more Huxley and hopefully I will get to it soon.
Quicksand and Passing by Nella Larsen. In my earlier post about David Bowie's list of his top 100 books was Passing. It's about about a light skinned African American who could "pass" for being white. I can see why Bowie would be interested in a book about identity. Larsen was a part of the Harlem Renaissance in the 20's and I am interested in discovering her work.
Zeitoun by Dave Eggers. I read A Heartbreaking Work of Staggering Genius years ago, about how he had to raise his younger brother when their parents died and I liked it Zeitoun takes place during Hurricane Katrina and I'm interested reading this piece of non-fiction.
The Talented Mr. Ripley by Patricia Highsmith. I saw the film when it came out and loved it. I feel ashamed I haven't read any Highsmith novels. Her writing always gets high praise.
The Brandons by Angela Thirkell. Sometimes you buy a book without knowing much about the book or its author. This looks like a comic novel set in the British aristocracy in Barsetshire region. Looks absolutely charming.
Flight Behavior by Barbara Klingslover. I read her first book, The Bean Trees when I moved into my apartment in 2005. It was sitting on top of a pile of books I hadn't shelved yet. Lucky me. I wound up loving that book. It was funny, moving and had a theme of social issues in it. I have since also read Animal Dreams, which I didn't love so much. I have a number of her other books and hopefully will get to them soon.
The Jewel of the Crown by Paul Scott. My local PBS station aired the old miniseries based on the books last winter. I didn't get to see the entire miniseries but I really liked what I saw. It's about Colonial India around WWII. India was considered the "jewel" of the British Empire those days. This is the first book in The Raj Quartet.
Kafka on the Shore by Haruki Murakami. Murakami is a popular writer these days and I haven't read anything by him. I also have Norwegian Wood, so hopefully I will read something soon by him.
Again the next sale is August 27th. They also will be at the Concourse of the Empire State Plaza on September 27th to the 30th and November 1st to the 4th. Go forth and shop.