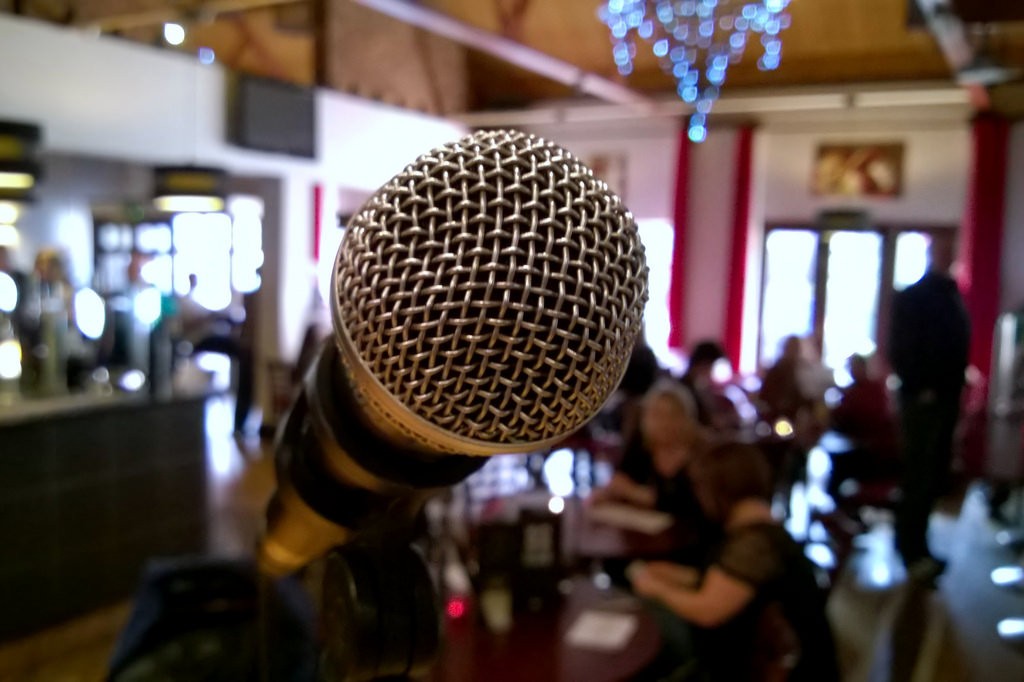 We have another great week of poetry and spoken word readings, open mics, events, and slams in the area to celebrate and appreciate the art. Here is a look at what is coming up in our poetry community this week…
Sunday, October 25
3:00pm – Sunday Four Poetry Open Mic
Old Songs Community Center, 37 South Main Street, Voorheesville, NY
Monthly open mic for poets and poetry hosted by Dennis Sullivan, Mike Burke, and Edie Abrams at the Old Songs Community Center in beautiful Voorheesville, NY. This month's featured reader is Karen Skolfield.
6:30pm – For The Love
Steamer No. 10 Theatre, 500 Western Ave, Albany, NY
"For The Love" is a one hour and thirty-minute poetry showcase featuring three accomplished local poets – Daniel Summerhill, D. Colin, and Amani Olugbala.
https://www.youtube.com/watch?v=8GpruoO_UXU
Monday, October 26
7:30pm – Poets Speak Loud
McGeary's, 4 Clinton Square, Albany, NY
Poets Speak Loud is Albany Poets' monthly open mic for poetry and spoken word hosted by Mary Panza. This month's featured reader is Tim Verhaegen.
8:00pm – Club Harmony
Wok 'N Roll Cafe, 52 Mill Hill Road, Woodstock, NY
Weekly poetry open mic with featured reader Dave Thomas hosted by Michael Platsky.
Tuesday, October 27
7:00pm – Club Helsinki Open Mic
Club Helsinki, 405 Columbia Street, Hudson, NY
A weekly open mic for music, performance, and poetry on the incredible Club Helsinki stage.
7:00pm – Emack and Bolio's Open Mic Night
Emack & Bolio's, Delaware Ave., Albany, NY
A weekly open mic for music and poetry.
7:00pm – Rensselaerville Library Poetry Group
Rensselaerville Library, 1459 County Route 351, Rensselaerville, NY
Bring your poem and receive feedback from fellow poets, or just share your words at the Rensselaerville Library Poetry Group on the Second and Fourth Tuesdays of each month.
8:00pm – Northampton Poetry Open Mic
World War II Club, 50 Conz St., Northampton, MA
Northampton's only weekly open mic poetry night offers some of the best, most creative voices in the county. Every Tuesday night at 8:00pm. Come down and listen. Come down and share your words. Academic or slam, spoken word or political: Your words are welcome. This week's featured poet is Janae Johnson.
Thursday, October 29
7:00pm – Rockhill Bakehouse Open Mic
Rockhill Bakehouse Cafe, 19 Exchange Street, Glens Falls, NY
Weekly open mic for musicians and writers.
8:00pm – Starving Artist Thursdays
Hudson River Coffee House, 227 Quail Street, Albany, NY
A weekly open Mic for music, poetry, and spoken word at one of Albany's best new coffee shops.
Friday, October 30
7:00pm – Reading & Book-Signing for Gloucester Notes by Dan Wilcox
The Book House of Stuyvesant Plaza, 1475 Western Avenue, Albany, NY
Albany poet, photographer & peace activist Dan Wilcox will read from his new chapbook of poetry, Gloucester Notes.
8:00pm – The Parlor Cafe Open Mic
The Parlor Cafe, 303 Ashland Street, North Adams, MA
A weekly open mic each and every Friday at the Parlor Cafe in North Adams for poets, musicians, and artists. Signup at the bar and get ready for the show, starting at 8:00pm.
Saturday, October 31
6:30pm – Inquiring Minds Bookstore
Inquiring Minds Bookstore, 65 Partition Street, Saugerties, NY
Monthly open mic with a featured reader at the beautiful Inquiring Minds Bookstore in Saugerties created and hosted by author Laura Lonshein Ludwig.

[su_note note_color="#F1F1F1″ radius="0″]If you would like to have your poetry event listed on the Albany Poets Events Calendar, click here and fill out the form to submit your event.[/su_note]