The next gathering of the Woodstock Poetry Society takes place this coming Saturday afternoon at the Golden Notebook starting at 2 p.m. Host Phillip Levine has two great poets, Andy Clausen and Pamela Twining, lined up as the featured readers for this great Hudson Valley poetry series.
Here is more info from the host himself:
Woodstock Poetry Society & Festival as part of the Woodstock Arts Consortium is sponsoring the following poetry event as part of the Woodstock "Second Saturdays" Art Events. For a full listing of "Second Saturday" events, see: www.artsinwoodstock.org.
Poets Andy Clausen and Pamela Twining will be the featured readers, along with an open mike when the Woodstock Poetry Society & Festival meets at Golden Notebook (Upstairs), 29 Tinker Street on Saturday, June 13th at 2pm.
Andy Clausen has travelled and read his poetry all over North America and the world. (New York, California, Alaska, Texas, Prague, Kathmandu, Amsterdam etc.) He has maintained a driven intrepid lifestyle and aspired to be a champion of the underdog. He has had many jobs of variegated nature studying humanity and earning a living. He has written about his friendships with Allen Ginsberg, Gregory Corso, Ray Bremser, Janine Pommy Vega, Peter Orlovsky, and many others of the Beat Generation.
He has lectured at many Universities and taught at The Jack Kerouac School of Disembodied Poetics, at Naropa. He was co-editor of, POEMS FOR THE NATION, with Allen Ginsberg and Eliot Katz (Seven Stories Press). He was an editor at LONG SHOT Magazine. He has back packed around the world and has resided in over twenty states and provinces.
For twelve years he conducted poetry workshops in the NY state prison system for Incision Arts. In 1999 Clausen began teaching poetry in the schools under the auspices of Teacher's & Writers Collaborative. Andy now resides in Woodstock, NY, where he teaches, writes, and performs his work in the New York area, Colorado, California and other venues.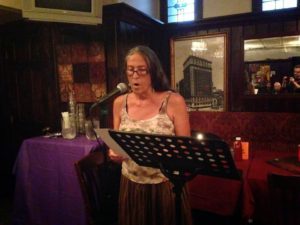 Pamela Twining lives in Woodstock, NY, where she raised her children and studied organic farming and healing with herbs. She has read her poetry in many venues, alongside Andy Clausen, Jeff Poniewaz, Antler, Peter Lamborn Wilson, Mikhail Horowitz, Anne Waldman, Thurston Moore, often accompanied by Cosmic Legends. Over the years she has developed a very personal style, sometimes tender and lyrical, sometimes brutally frank, resonating with the wisdom of her partially Native American heritage. Her work has appeared in Big Scream, Napalm Health Spa, The Café Review, Big Hammer, Poetrybay, Heyday! Magazine and others. She is the co-producer, with Andy Clausen, of the annual Janine Pommy Vega Poetry Festival. Her new book, entitled Sun Moon Dance, will be released in 2015.

For further information on this great, long running series, contact Phillip X  Levine (845)246-8565 or email: pprod@mindspring.com.
[location post_id="14339″]
#_LOCATIONMAP
#_LOCATIONNAME
#_LOCATIONADDRESS
#_LOCATIONTOWN, #_LOCATIONSTATE #_LOCATIONPOSTCODE


[/location]