The 2015 Albany Word Fest has been great so far and we have to more days of great events before we call it a year. Tonight we are have the Word Fest Open Mic at the UAG Gallery and then tomorrow we close out the week with the 3rd Annual Word Fest Invitational Slam at the Steamer No. 10 Theatre.
Word Fest Open Mic
Tonight is the night. Mary Panza will be hosting the 14th Word Fest Open Mic starting at 7:00pm at the UAG Gallery (247 Lark Street, Albany).
Close to 50 poets have signed up including Judith Prest, Jessica Rae, Alan Catlin, Sylvia Barnard, Debby Mayer, Lisa St. John, Tim Keegan, Joe Hesch, Howard Kogan, Charles Straney, Joe Krausman, The Poet Diva, A.C. Everson, L-Majesty, Brian Dorn, The Poet Essence, Haigan Smith, Tim Verhaegen, Jay Renzi, Bob Sharkey, Don Levy, Glen Feulner, Steven Minchin, Matt Galletta, Adam Tedesco, Tess Lecuyer, Bob Harlow, Ian Macks, Mizana, Anthony Bernini, Caroline Curran, Opal Ingram, Dan Wilcox, Caroline Curran, Melody Davis, J. L. Weeks, Mojavi, Christopher McGoff, and Scott Mils.
You will also have the opportunity to pick up a copy of Up The River, Issue Three, which was released this past Sunday at McGeary's to kick off the Word Fest, and other books and CDs from Albany Poets.
[AMAZONPRODUCTS asin="1511595353″]
The 3rd Annual Word Fest Invitational Slam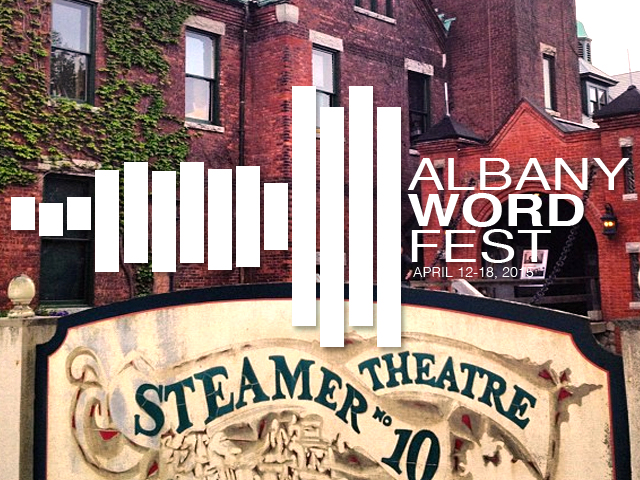 Tomorrow night we will be bringing the 2015 Albany Word Fest to a close at The Steamer No. 10 Theatre with the 3rd Annual Word Fest Invitational Slam. This year, because we want to make this event bigger and better than ever, we are happy to announce that there will be seven teams competing! Albany's very own Nitty Gritty Slam team will be joined on stage by Roc Bottom Slam Team (Rochester), Pure Ink (Buffalo), Nickel City (Buffalo), Underground Poetry Spot (Syracuse), Pilot Light Poets (Pittsfield, MA), and Rhyme for Reason (Syracuse).
This show is going to be a great way to bring the 2015 Word Fest to an end. Tickets are just $13 in advance (online at http://www.steamer10theatre.org) / $15 at the door.
How You Can Help Albany Poets and the Albany Word Fest
To make the 2015 event a success, and as free as possible for all attendees, we need financial assistance from the community. Your donation not only helps us put the Word Fest together, but also upcoming projects and events such as Up The River, the Albany Poets website costs, sending Team Nitty Gritty to the National Poetry Slam in Oakland this summer, and keeping poetry and spoken word happening and growing in the area year round.
If you would like to make your donation with your credit card, please click on the DONATE link that will take you to our secure PayPal checkout. If you would rather donate by check you can make your check payable to "Albany Poets" and mail it to 84 South Pine Ave., Albany, NY, 12208.
As a way to say thank you, we have set different levels of rewards for your donation that you can choose from. When we receive your donation (either by PayPal, check, or cash), you will get an email from Albany Poets where you can then choose your thank your gift.