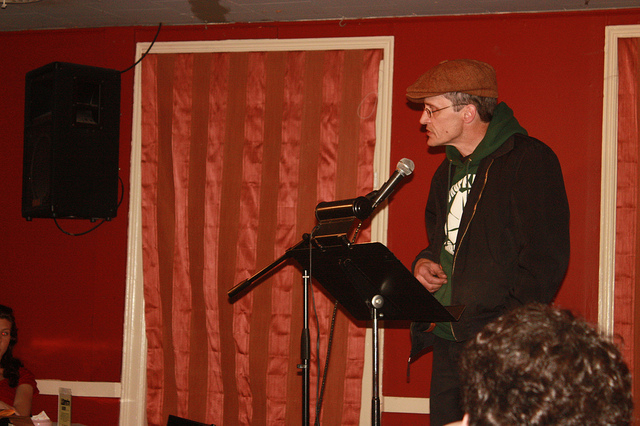 Potluck and poetry returns to the Pine Hollow Arboretum in Slingerlands on Friday, September 12 with featured reader Mark W. O'Brien for the Poets of Earth, Water, Tree and Sky open mic.
Blackwater Suite, a folk opera of performance poetry, will be presented in a World Premiere by poet Mark W. O'Brien at the monthly reading series with open mic held at the Visitor's Center of Pine Hollow Arboretum. The piece incorporates voice, guitar and flute with accompaniment by Gail Allen. The performance piece was inspired by O'Brien visit to the Blackwater Watershed in Ireland and uses new words with traditional folk tunes for a unique and interesting poetic multimedia experience.
The reading begins at 6:30 p.m., right after the potluck which starts at 5:30 p.m. Bring a dish, snack and deserts welcome. The food is usually eaten during the entire evening. Coffee and cold drinks are provided.
The Open Mic for writers and poets will be offered as usual. Poets can read three short poems or two longer poems or two pages of prose will be acceptable. There will be light refreshments offered. Donations welcomed. Contact Alan Casline at acasline@aol.com for more information.
Funding to support this Reading Series comes from Hudson Valley Writers Guild and Rootdrinker Institute.
[location post_id="11038″]
#_LOCATIONMAP
#_LOCATIONNAME
#_LOCATIONADDRESS
#_LOCATIONTOWN, #_LOCATIONSTATE #_LOCATIONPOSTCODE


[/location]