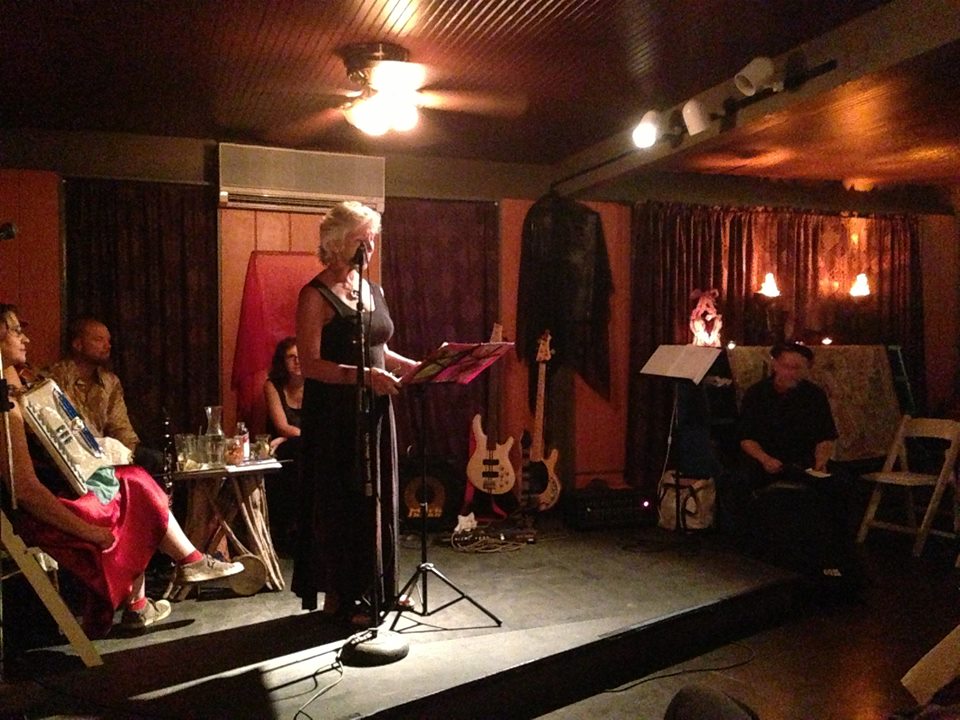 Do you believe that poetry is worth paying for? Do you believe that human beings are best considered as creative subjects, not mere objects? Do you believe it's possible to re-frame and re-define a culturally-charged term, and in doing so, change want we value, what we think is desirable? The Poetry Brothel of Kingston does! Come see us on Friday June 6th 8:00 – 10:30 at the Liberty of Rhinebeck., 6417 Montgomery Street, Rhinebeck, NY.
The Poetry Brothel, a uniquely immersive poetry experience that reinvents the brothel model by replacing the traditional "wares" with words, will make its return on Friday June 6th at the Liberty in Rhinebeck, NY, for an evening of live music, dance, and performance poetry with attitude.
Conceived by the Poetry Society of New York, The Poetry Brothel has been successful in NYC, Barcelona, Los Angeles, Chicago and many other cities. It presents poets as bardic courtesans who impart their work in performance-based readings, but most distinctly, private poetry readings on premises. In this brothel, the goods are intellectual, not carnal – and these goods can be had for a small fee. For $3, an audience member can select a poet for a 3 minute private reading. For many, this intensified experience of poetry is quite personal and memorable.
Central to this experience is the creation of character, which– for poet and audience– functions as both disguise and freeing device, enabling The Poetry Brothel to be a place of uninhibited creative expression.
In addition to this roving band of costumed poets, a variety of dancers, musicians, and various roustabouts help create the celebratory atmosphere and enrich the evening's experience.
Tickets to the Poetry Brothel events cost $10 and are available at the door. Tokens for private readings (available throughout the evening) are $3.
Poets:
Adrianne Woods as Adrianne Woods
Andrea Pacione as Cat Aclysm
Francine Glasser (Co-Madam) as Heronesta
Gary Siegel (Founder) as Che La Vie
Glenn Werner as Bic Pentameter
Jacqueline Ahl (Madam) as Miss Anthropy
Maura McMahon O'Meara as Desdemona Goose
Samuel Claiborne as Jacques Stroppe
Music:
Jennifer Lewis Bennett as Jazzabelle de la Faire
Dance (Eye Candy Troupe):
Ashely Enright as Reshkiga
Julian Broughton as Jaffi
Lisa Quatrocchi as Lady Ayleeza
Levanta (House Band):
Raphael Garitano— Guitar, Mandolin
Evry Mann— Drums
Alan Murphy — Bass
Thomas Workman— Flutes, Percussion, Tuba, too many instruments to mention
The Kingston Poetry Brothel, formed by Gary Siegel in 2012, looks to subvert and supplant the traditional brothel model by suggesting that what is desirable, what is worth buying and celebrating, is the product of human intellect and creativity— in this case, poetry. In 2013, the Poetry Brothel of Kingston established ties to Children of Tomorrow, an international organization that rescues young victims of human trafficking. Children of Tomorrow provides access to educational and vocational resources, and offers the possibility for self-expression through the writing and study of poetry. Part of our event proceeds supports Children of Tomorrow's Nepal project, teaching previously trafficked and devalued girls that their voices are indeed valuable.