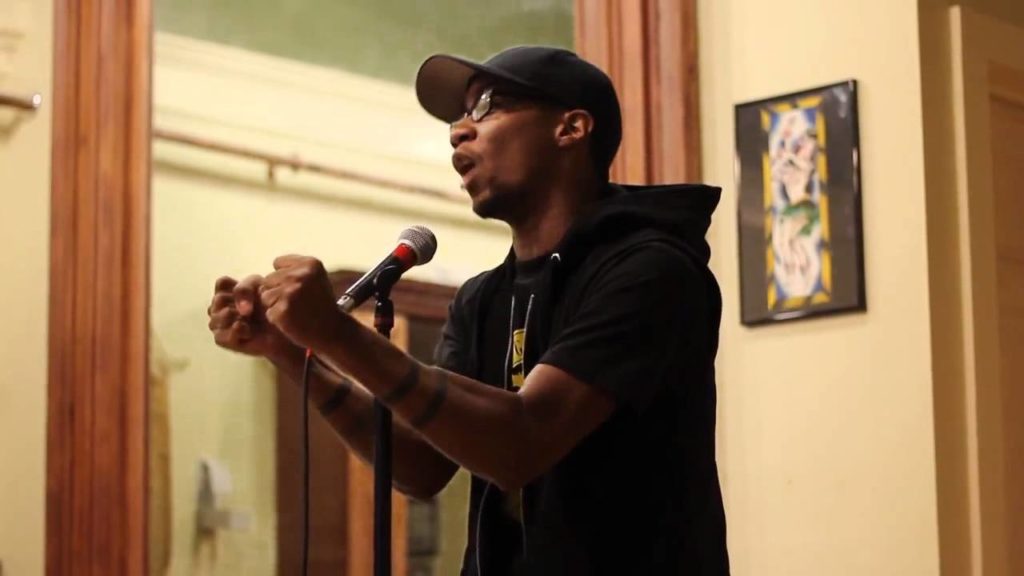 WordXWord will host a series of weekend events as prelude to the 6th Annual August Festival. First-up will be a two-night stand, Memorial Day Weekend at Dottie's Coffee Lounge with audience favorite Omar Holmon hosting a Friday evening Story Slam and a Saturday evening Poetry Slam. Local teens are invited to share their work at an open mic preceding the Story Slam.
Guest host Omar Holmon is a 4 time grand slam champion (Urbana, Nuyorican Poets Cafe, and Loser-slam Grand slam, (twice)) and the only man alive to punch the planet Jupiter in the face. He was featured on season 2 of Verses and Flow, Final stage at the 2009 National Poetry Slam and has his work published in literary journals such as Pank, Used Furniture Review, and the Legendary.
"Omar Holmon is . . . Captivating, dynamic and thoughtful, his is the kind of poetry you can be friends with (or rather, the kind of poetry you secretly pine after with a friendship crush the size of the Atlantic whilst sitting across the room from it, snickering quietly to yourself at its casual hilarity and marveling with a blatant helplessness at its astounding depth . . ." – K
All events are free and open to all ages (however, parents are cautioned that occasionally the language can be "salty"). Storytellers, slam poets and teens interested in performing should visit wXw365.org for more information and to preregister for a slot (recommended).
Story Slam & Teen Open Mic, Friday, May 23, 7P
The theme, or prompt, for the first qualifier in the WXW Story Slam competition is "near miss." Without notes or props, storytellers tell fantastic, true stories based on the theme. An open mic session for teen poets will get the evening started.
Poetry Slam, Saturday, May 24, 7P
Poets have 3 minutes to perform a poem of their own composition without notes, accompaniment or props. Performances are judged by volunteers from the (rowdy) audience. Top two poets will move on to the Poetry Slam Semi-finals and a chance to qualify for the WXW finals in August.
Additional weekend events are in the works for June and July with dates and venues to be confirmed. Visit wXw365.org for updated information.
WordXWord celebrates diversity, the creative use of language and the experience of community – using spoken word, poetry and storytelling in celebration of the individual, to bridge differences and connect people.