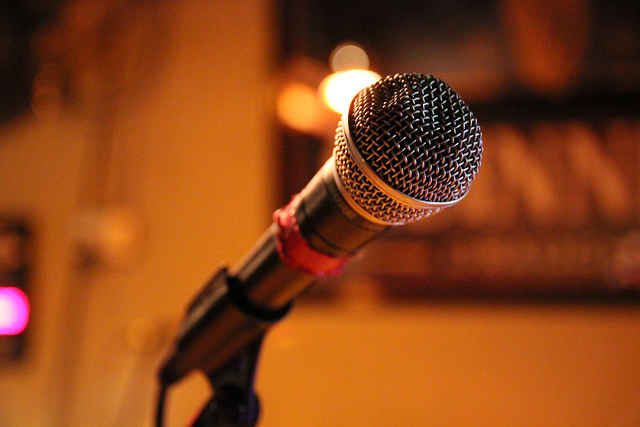 We have a lot going on this coming week in the upstate area. Another seven solid days of opportunities to get involved in the poetry and spoken word community starting with the return of the Poetry + Prose series at The Arts Center in Troy on Sunday afternoon and wrapping up with Artist United at The Book Club on Saturday.
The week ahead…
2:00pm – Poetry + Prose
The Arts Center of the Capital Region, 265 River Street, Troy, NY
A monthly open mic for writers of poetry and prose on the 2nd Sunday of each month with your hosts Nancy Klepsch and Dan Wilcox.
8:00pm – Club Harmony
Wok 'N Roll Cafe, 52 Mill Hill Road, Woodstock, NY
Weekly poetry open mic with a featured reader hosted by Michael Platsky.
7:00pm – Emack and Bolio's Open Mic Night
Emack & Bolio's, Delaware Ave., Albany, NY
A weekly open mic for music and poetry.
7:00pm – Club Helsinki Open Mic
Club Helsinki, 305 Columbia Street, Hudson, NY
The Club Helsinki Open Mic offers burgeoning artists and veterans alike an opportunity to practice their chops, network, and impress their friends using an incredible stage and sound system every Tuesday night in Hudson, NY.
8:00pm – Northampton Poetry Open Mic
Hinge, 48 Main St., Northampton, MA
Northampton's only weekly open mic poetry night offers some of the best, most creative voices in the county. Every Tuesday night at 8:00pm. Come down and listen. Come down and share your words. Academic or slam, spoken word or political: Your words are welcome. Every show features an open mic reading and a featured poet. Sometimes we all get rowdy and slam. All ages welcome. We charge a $2 cover at the door.
7:00pm – Live From The Living Room
The Pride Center, 332 Hudson Ave., NY
Monthly poetry open mic with featured reader hosted by Don Levy.
8:00pm – Cock 'n Bull Open Mic
The Cock 'n Bull, 5342 Parkis Mills Road, Galway, NY
Do you write poetry, essays, stories, memoirs, songs? Do you sing, play an instrument, tell jokes or read aloud? Or do you just enjoy hearing other people perform? Then come enjoy an Open Mic evening at the Galway Cock n Bull Restaurant, sponsored by the Galway Public Library.
8:00pm – Pauly's Hotel Open Mic Night
Pauly's Hotel, 337 Central Ave., Albany, NY
Poetry, Music, Comedy and more take center stage at Pauly's weekly Open Mic Night hosted by Brian LaPoint and Joshua Gruft.
7:00pm – Rockhill Bakehouse Open Mic
Rockhill Bakehouse Cafe, 19 Exchange Street, Glens Falls, NY
Weekly open mic for musicians and writers.
7:30pm – Bohemian Book Bin open Mic
Bohemian Book Bin, 592 Ulster Ave., Kingston, NY
Monthly poetry open mic with a featured reader hosted by Teresa Marta Costa.
7:30pm – Frequency North
The College of Saint Rose, 420 Western Ave., Albany, NY
"Frequency North," the visiting writers series at The College of Saint Rose, returns for its ninth year of readings by today's most riveting, entertaining and thought-provoking authors and poets. The featured reader for this edition of Frequeny North is the Saint Rose Writing Faculty, with Kenneth Krauss, Daniel Nester, Hollis Seamon, Rone Shavers and Barbara Ungar.
8:00pm – Starving Artist Thursdays
Hudson River Coffee House, 227 Quail Street, Albany, NY 12203
A weekly open Mic for music, poetry, and spoken word at one of Albany's best new coffee shops.
8:00pm – The Parlor Cafe Open Mic
The Parlor Cafe, 303 Ashland Street, North Adams, MA
A weekly open mic each and every Friday at the Parlor Cafe in North Adams for poets, musicians, and artists. Signup at the bar and get ready for the show, starting at 8:00pm.
2:00pm – Woodstock Poetry Society
Mountain View Studio, 20 Mountain View Ave., Woodstock, NY
Monthly poetry open mic in beautiful Woodstock, NY hosted by Chronogram Poetry Editor Phil Levine with featured poets.
7:00pm – Poetry at the UUC
Unitarian Universalist Congregation of Kingston, 320 Sawkill Road, Kingston, NY
A monthly poetry open mic with featured readers hosted by Micky Shorr.
8:00pm – Artist United
The Book Club, 153 South Pearl Street, Albany, NY
An eclectic group of artists will be coming together to support the Urban Book Cafe, a place that promotes literacy and the arts in the urban community of Albany, NY. All proceeds will go towards a non-for profit that The Book Club is starting called the Albany Arts & Literacy Center (a center that will help kids with self expression through the arts).
If we are missing anything on this list, check out the full events calendar. If you would like to have your poetry event listed on AlbanyPoets.com, send an email to albanypoets+events@gmail.com with the details.
For a full listing of all of the poetry and spoken word events in upstate New York, head over to the events calendar page. And if you live in the Western Massachusetts / Connecticut area, be sure to check out Lori Desrosiers' Poetry News Calendar.