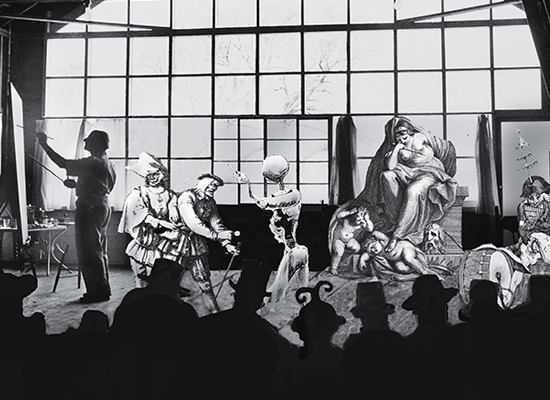 The third Surreal Cabaret will be presented at 7:30 p.m. on Friday, August 23 at the Seligmann Studio, 23 White Oak Drive in Sugar Loaf.  Admission is free.  The event will feature a series of short performances by local artists.
Acts may cross genres, mixing poetry, drama, dance, and music, while featuring conceptual play, experimentation, and improvisation.  As food and drink are barred from the space during the remarkable New York Collection for Stockholm show currently hanging, audience members will be able only to mime sipping absinthe.
The program will open with a benediction from Surrealist chaplain Lama Swine Toil. Producers of the performances to follow are Dan Adreana, Michael Sean Collins, Anne Hanson, Jennifer Kraus, Chloe Roe, Steve Roe, and William Seaton.  Musical interludes and a longer selection will be provided by John Korchok's ArtCrime ensemble.
The event is part of an ongoing series of exhibits, readings, lectures, and workshops presented by the Seligmann Center for the Arts.  Kurt Seligmann was a Surrealist artist who lived in Sugar Loaf, and the Center offers a rare Hudson Valley venue for avant-garde painters, writers, and performers.
For further information contact William Seaton at seaton@frontiernet.net or (845) 294-8085.  See www.kurtseligmann.org for details on other programs.