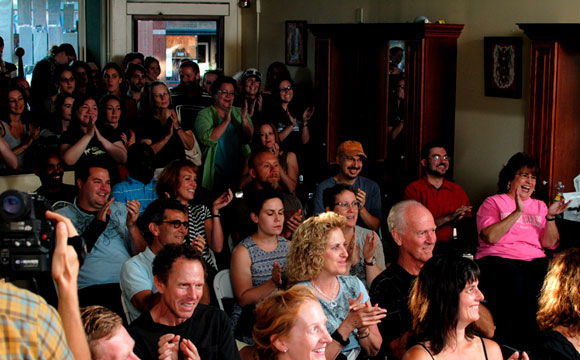 It is a sure sign of summer when our good friends over at the WordXWord Festival in Pittsfield release information on August's week long festival of poetry and spoken word. This year's event will be taking place August 11 – 17, the same week that Team Nitty Gritty will be in Boston for the National Poetry Slam. The WordXWord Festival is a great series of events that bring poetry and spoken word to western Massachusetts through open mics, readings, slams, and other fun and innovative activities and performances.
Here is some of the information from Jim and Bill over at WXW:
WordXWord Festival 2013: 7 Days of Poetry & Spoken Word, August 11 – 17

The 5th annual WordXWord Festival will present an unprecedented array of poetry, spoken word, storytelling, workshops and word-related activities August 11 – 17, 2013 at locations throughout the Upstreet Cultural District of Pittsfield, Massachusetts.

Poets In Residence
The festival will be anchored by the week long residency of four dynamic, nationally acclaimed poet/spoken word artists: Jon Sands, Robbie Q Telfer, Cristin O'Keefe Aptowicz and Omar Holman. Sands and Telfer will share hosting/emceeing duties for the week-long festival, while Aptowicz and Holman will serve as resident personalities, popping up and chiming in throughout the week's events. In addition, all four will present their own work as part of the Feature Night and Finale programs.

Words and More Words
The festival schedule includes poetry performances and readings by both local and national artists; the finale of the WordXWord Story Slam series; the popular WXW Poetry Slam; an iPhone Poetry festival-within-a-festival; the Amazing Poetry Race, pitting teams of two against each other as they unravel clues to move from location to location and face a variety of challenges involving words, mental and physical challenges; Feature Night, a gathering spotlighting some of the most significant poets and spoken word artists on the national scene including the four poets-in-residence; the Encyclopedia Show, a variety extravaganza in which artists and experts from multiple disciplines use their talents to present a verbal and musical encyclopedia entry, with the mission to "chafe against logic and proof and find meaning in obfuscation"; and the Grand Finale destined to top last year's Poetry Olympics in spectacle.

Words Everywhere
As is the WXW tradition, events will take place in a range of non-traditional venues including the Berkshire Museum, a barber shop, street corners, art galleries and storefronts. In addition to the performance events the festival will present several writing and performing workshops led by the visiting artists.
We will be keeping you updated with more details on WXW 2013 as it approaches. For more information, contact Jim Benson or Bill Yehle or head over to the website at www.wxw365.org