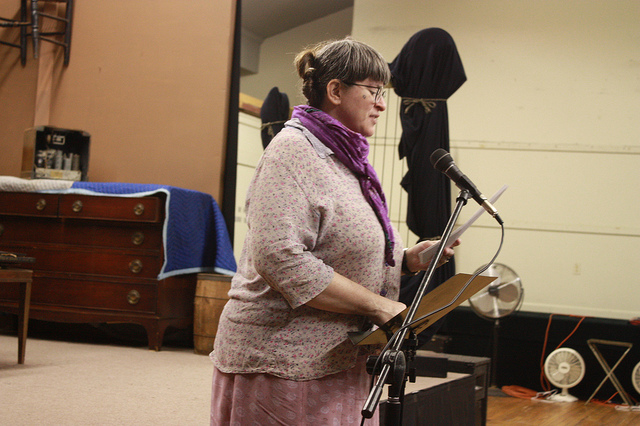 The Woodstock Poetry Society will be meeting this coming Saturday, April 13 with an open mic and two fantastic featured poets, Trina Porte and Victoria Sullivan,  performing at Mountain View Studio, right across the street from the usual Colony Cafe venue.
Host Phillip Levine sent along the following announcement:
Woodstock Poetry Society & Festival as part of the Woodstock Arts Consortium is sponsoring the following poetry event as part of the Woodstock "Second Saturdays" Art Events. For a full listing of "Second Saturday" events, see: www.artsinwoodstock.org.

Poets Trina Porte and Victoria Sullivan will be the featured readers, along with an open mike when the Woodstock Poetry Society & Festival meets at Mountain View Studio, 20 Mountain View Avenue, on Saturday, April 13th at 2pm. Note: WPS&F meetings are held the 2nd Saturday of every month.

The readings will be hosted by Woodstock area poet Phillip X Levine. All meetings are free, open to the public, and include an open mike.

Also: the upcoming Woodstock Writers Festival 4/18-21, has extended a nice offer (as they did last year) to offer tickets at a discounted price through WPS to a poetry event they are having. Tickets are normally $15, but are available at $10. Contact Martha Frankel at marthafrankel@me.com and mention WPS if you are interested.

Trina Porte's poetry has been published in Evergreen Chronicles, Dust & Fire, RATH, Photography Quarterly, I Love You Greene, Zephyrs, Perfect 8, Chronogram, Rain and Thunder, and the anthologies A Slant of Light, lifeblood and Just Like A Girl. She has read at Cornelia Street Café, BAAD, Brecht Forum, Makor, and Bluestockings in New York, Patrick's Cabaret, Blue Moon, and Dyke Night in Minneapolis, and The Haunted Bookshop in Iowa City. Favorite public library readings include Chatham, Great Barrington, New Lebanon, Northampton, Stephentown, and Woodstock, and her work is archived in the collections of Brooklyn and the Minnesota Historical Society.

In her work as a feminist activist, she was privileged and proud to know Andrea Dworkin, to join the struggle to end violence against women, and to celebrate lesbian contributions to community and politics. She lives in the woods upstate NY with her wife of 22 years, is publisher-editor of Chickaree Press, and makes a fine genoise.

Victoria Sullivan is both a poet and a playwright. She has performed her poetry in numerous venues in New York City, Ulster County and Cairo, Egypt, as well as on radio and television.  Her latest chapbook, EATING FIGS AT TWILIGHT  won the Edda Poetry Chapbook Competition for Women of the Sarasota Poetry Theatre Press.  Her two prior chapbooks are ALZHEIMER DREAMS (Red Parrot Press) and THE DIVIDED BED (Hatch-Billops Collection).  Her poetry has appeared in numerous journals, including Artist and Influence, Wildflower, Poetry in Performance, Medicinal Purposes, Northeast Corridor, The Same, and in the book WHEN A LIFE MATE DIES (1997).

Sullivan has had seven Equity productions of her plays in New York City.  Having been a member of Hypothetical Theatre Co. and American Renaissance Theater Co., she is currently active in the playwrights unit of the Woodstock Fringe.  Sullivan also holds the title "Poet Laureate of the Woodstock Roundtable" on radio station WDST 100.1.