Poetyc Visionz might as well move into the Book Club (153 South Pearl Street, Albany), because he has a busy couple of nights ahead of him at the downtown venue. Tonight he is hosting his weekly "Safe Haven" poetry open mic. The Safe Haven is one of the hottest mics happening right now in Albany and is constantly bringing new poets and spoken word artists to the stage.
Then, tomorrow night he is returning for the release of his new spoken word album, The Real Reality. The show, starting at 9:00pm, has everything: Poetry, music, performances, food, drinks, and of course the opportunity to get the new CD.
Here is the info from the Facebook event page:
ok..so most of you already know the motivation and excitement going into this day…its the coming of my second cd, with all types of information, entertainment, and self-reflective revelation….it possess that "feel good" factor…you will feel better about "who you are" once you hear it! So come one come all…tell a friend to tell a friend…bring you your crew, and few, and we will make it do what it due!…etc. etc.

– FREE FOOD
– THE MOST MIND-BLOWING ENTERTAINMENT
– LIVE MUSICIANS – GREAT MUSIC
– FREE CD FOR THE FIRST 25 PEOPLE
– $10 ENTRY…INCLUDES FREE FOOD, AND FREE CD FOR 1ST 25 PEOPLE…
– $20 V.I.P. – INCLUDES, 1 FREE CD OF YOUR CHOICE, A GLASS OF COMPLIMENTARY WINE, RESERVED SEATING, AND FREE ENTRY INTO THE AFTER-PARTY ON THE HOUSE!…
– AFTERPARTY FOLLOW THE SHOW @ 124 4TH AVE. IN TROY (KOKOPELLIS….ITS ONLY A $5 ENTREE IF YOU ATTEND THE ALBUM RELEASE PARTY, OTHERWISE ITS $10…

BUT!!!….if you pay the VIP price, your covered going to the afterparty!!…

BASICALLY GOING VIP IS WHERE I'TS AT!!….

the cd is normally $10 solo – but on that night i'll have the first & second album for $15! if your not one of the first 25 people!….and there will be more to come!….so stay tuned people its goin down!….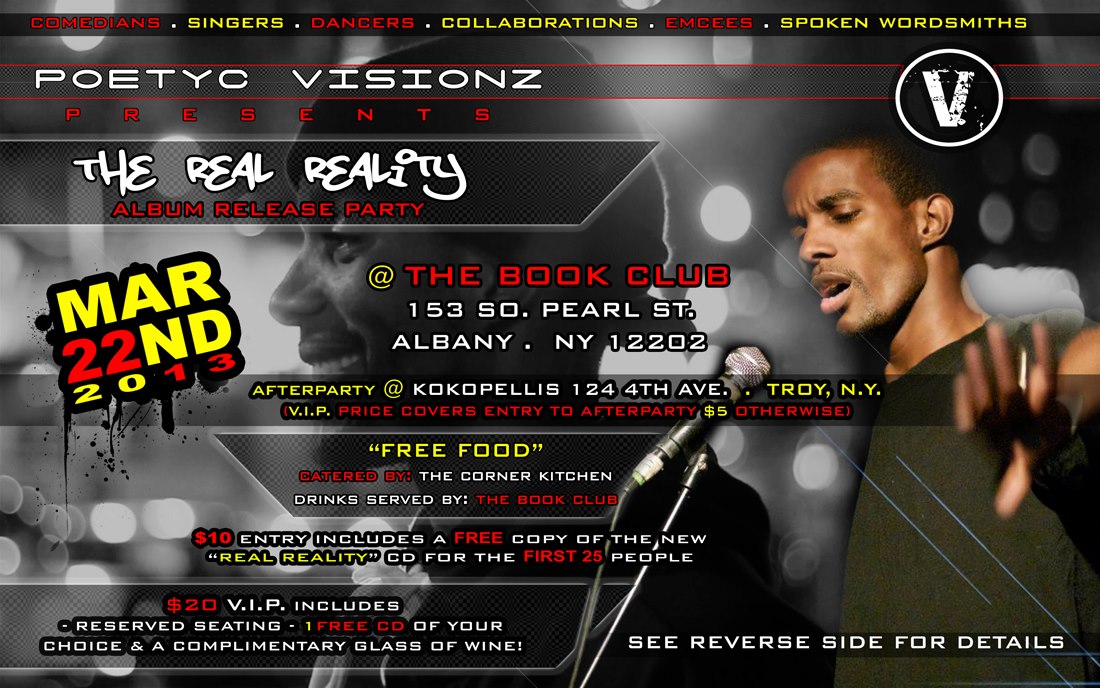 If this album is anything like his first CD, you are going to want to get it early and listen to it often. PV is great poet and performer who blends words to create a beautiful and positive message. It is always a treat to hear him perform on stage and this show is going to a great way to appreciate him and other local talent including Christopher The Poet, Shelly Sosa, Bless, Nickey Black, Leslie Michelle, Tenesha Smith, Kat SoPoetic, Algorhythm, L-Majesty, and more.