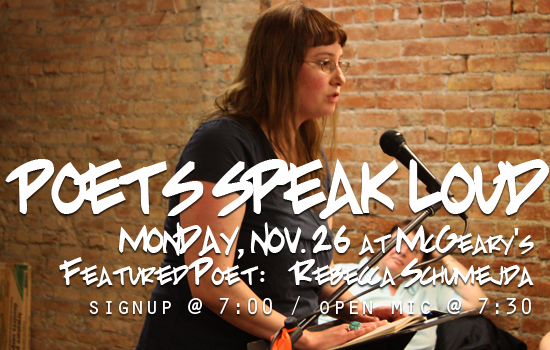 We return to McGeary's on Monday, November 26, less than a week after Thanksgiving, for another edition of Poets Speak Loud with this month's featured poet Rebecca Schumejda. Rebecca is a fantastic poet and host who is one of the driving forces keeping the words alive in Kingston. She is currently promoting her new book, Cadillac Men. Rebecca was the featured poet at PSL in July 2009 and it a treat and honor to have be back again in Albany as the feature for this evening of poetry and spoken word.
Rebecca Schumejda is the author of Falling Forward, a full-length collection of poems (sunnyoutside, 2009); From Seed to Sin (Bottle of Smoke Press, 2011), The Map of Our Garden (verve bath, 2009); Dream Big Work Harder (sunnyoutside press 2006); The Tear Duct of the Storm(Green Bean Press, 2001); and the poem "Logic" on a postcard (sunnyoutside).

She received her MA in Poetics and Creative Writing from San Francisco State University and her BA in English and Creative Writing from SUNY New Paltz. She lives in New York's Hudson Valley with her husband and daughter.
For a preview of what you can expect at Poets Speak Loud, head on over to Rebecca's poets page.
Each month you will be able to read more about the Poets Speak Loud featured poet by going to albanypoets.com/poets and going to the Featured Poet section.
Poets Speak Loud is a monthly open mic for poetry and spoken word with a featured poet hosted by local poet Mary Panza at McGeary's (4 Clinton Square, Albany) in downtown Albany on the last Monday of each and every month.
Sign-up for the open mic is 7:00pm, we start around 8pm