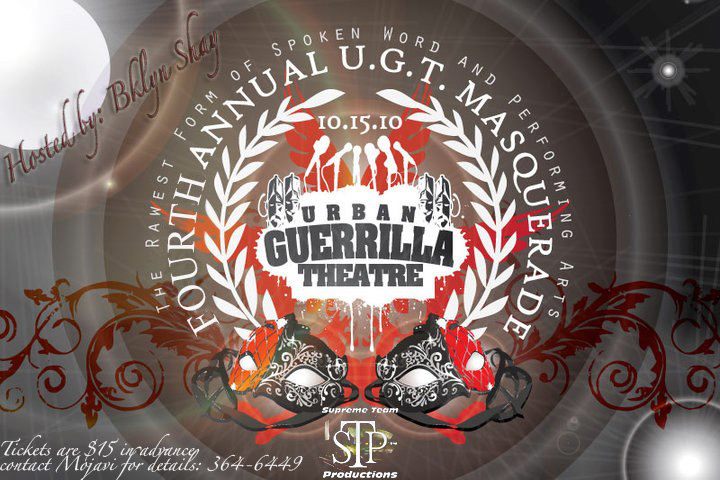 UGT is hosting it's annual Masquerade Ball this coming Friday, October 19, at The Linda (339 Central Ave., Albany). This time around Verbal Slap, the Connecticut slam team, will be the featured performers. Verbal Slap consists of poets Frederick Douglass, Hawk T. Poet, Influence, and Midnight.
Tickets are $15 in advance, $20 at the door and are available on The Linda's website. For more information on the event and the featured poets, go to the Facebook event page.
Verbal Slap will be joined on stage with performances by Neeco Piper, Quinn Piper, Leo D'Juan, Alicia Ortiz, Christina Leone, Lady T, Erica Johnson, Carlos Gaston,Loyal Mindset, JB, and more.
Ladies.. get that sexy out.. fellas wake that swag up.. Mask up your identity… conceal yourself in mystery…leave boredom, non-excitement and cheesiness at home…prepare your self…and be ready to put your incredibleness on others……TICKETS on SALE NOW..let your creativity be your guide…let your fashion be your statement
Urban Guerilla Theatre is a Poetry/Spoken Word/ Performance Group based in Albany,NY. The collective consists of Artists and Actors who do poetry/improv/theatre. The Artists of UGT are dedicated to reviving, redefining, and revolutionizing spoken word. The group employs various styles of poetry, music, spoken word and theatre to address life, love, relationships, social and societal issues. UGT also uses their open mic readings to host events and create an artistic space to house and develop artists and upcoming poets.
This years Masquerade Ball will be hosted by Bkln Shay and is sponsored by DJ Supreme / Supreme Team Productions and Gift Bags by Mishe. Video production by Brathwaite Publishing