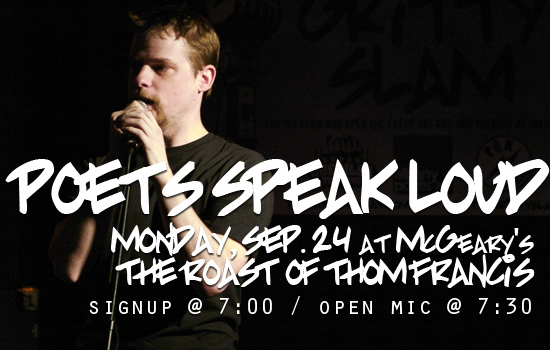 On Monday , September 24, Poets Speak Loud will present our Third Annual Celebrity Roast! Break out the presidential BBQ sauce because this year the poet on the spit is none other than our own Thom Francis.
You read it right! We are not holding back on the man that makes it all look so easy.
There will our usual open mic and in lieu of a feature we present to you some of Albany Poets best ball busters to try to bring Thom to tears and then he gets his turn to make them cry!
The roast panel includes: Keith Spencer, Dan Nester, Mojavi, Dan Wilcox, Kevin Peterson and keeping all these boys in line will be host/roast master Mary Panza!
Bring your poetry and let the games begin!
Thom has been reading, writing, and performing poetry in the area for almost 20 years. He has been featured at many of the open mics and events in the upstate region in that time. In 2000 he and R.M. Engelhardt started Albany Poets and in 2004 Thom and his trusty Board of Directors took the reigns of the organization and the rest is history.
Poets Speak Loud is a monthly open mic for poetry and spoken word with a featured poet hosted by local poet Mary Panza at McGeary's (4 Clinton Square, Albany) in downtown Albany on the last Monday of each and every month.
Sign-up for the open mic is 7:00pm, we start around 8pm