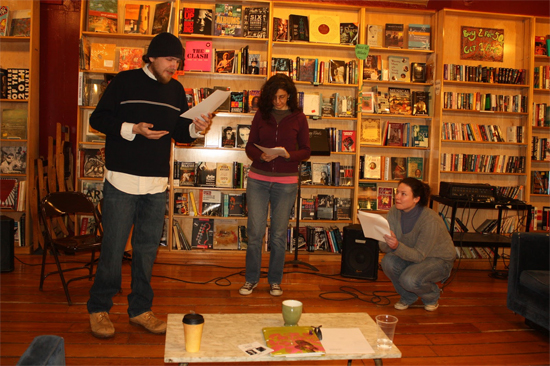 After the Banned Books ReadOut Saturday morning in Troy it's time to get on the road and head down to one of the great independent bookstores in the Hudson Valley. Starting at 7:00PM on Saturday evening Laura Ludwig is hosting a poetry reading featuring Donald Lev, Patricia Martin, Dean Schambach, and Chris Wood at The Inquiring Mind Book Store (66 Partition Street, Saugerties).
The Inquiring Mind Bookstore is proud to be considered a cultural and social center of our community and we continue to strive to provide interesting workshops, book groups, children's programs and other events for our customers.

In addition to these programs, our ongoing schedule of author readings has become known as one of the finest in the Hudson Valley, and we are pleased to be able to offer these events to our customers on a regular basis.

As independent bookstore owners, we pride ourselves on our customer service, our depth of selection, and above all, our love and knowledge of books. We appreciate the loyal support we have received from our customers and look forward to providing quality bookselling to our community for many years to come.
These poets are all well known Hudson Valley poets who have their own unique style. Donald Lev is the longtime editor and publisher of Home Planet News. Chris Wood is the publisher of Heyday Magazine and also host of a monthly reading at Half Moon Books in Kingston. Dean Schambach used to run an open mic at the Tinker St. Cafe in Woodstock. He is, according to Dan Wilcox, "more of an actor/performer than a poet, doing OPP (other people's poetry)".