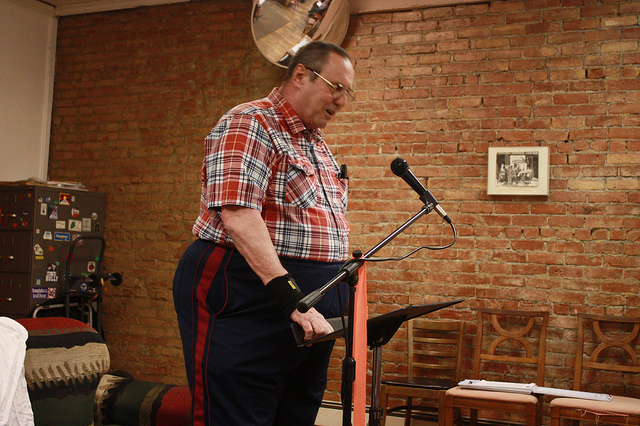 If you were at the 2012 Albany Word Fest, you heard Rick Harrienger read his work. He was one of the of the few local poets who made it to almost all of the events that were part of the first ever week long Word Fest (he even performed at the Nitty Gritty Slam). In particular, Rick's poems that he read at the Word Fest Open Mic were heart felt and very moving, bringing some in the crowd to tears.
Rick Harrienger, currently a Schenectady resident, began writing poetry as a way to 'purge the demons of war' but continued, at the persistence of a muse to include his recovery from the results of "better living thru chemIstry " and a indefatigable love of nature. With the exception of obscure publications, he is content to pursue what his Skidmore professor,Larry Peterson helped develop, which combines his photograph, stained glass, and poetry, which is closest to what is known as photo journalism.
We have invited Rick to submit some of his work to us so we can feature him on the Albany Poets website and we are very happy that he did. We have three new poems on the site, The Ballad of Sean McGuire, Aviary Sanctuary, and Charlie for you to read, so head on over and check them out.