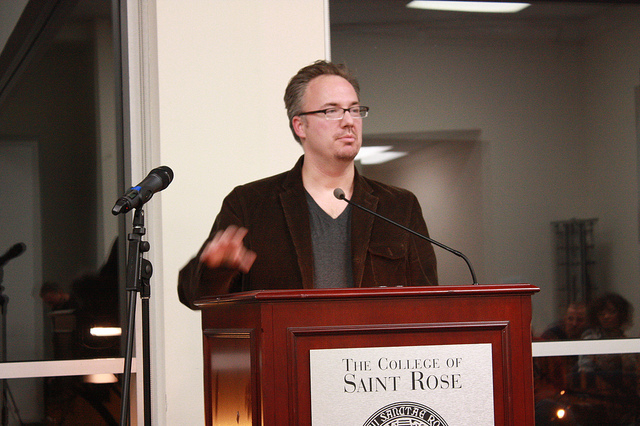 Things like this do not happen very often, but there are three big poetry readings happening on Thursday, September 20 here in Albany. Dan Wilcox has Cara Benson as the featured poet at the Third Thursday Poetry Open Mic at the Social Justice Center. The NYS Writers Institute is having a reading with Alison Lurie, New York State Author and Marie Howe, New York State Poet. And over at The College of Saint Rose, Daniel Nester is kicking off the eighth season of Frequency North, celebrating  the new MFA in creative writing program. The five core writing faculty will be sharing new work.
Frequency North, the visiting writers reading series at The College of Saint Rose, kicks off its eighth season with readings by the Saint Rose writing faculty to mark the launch of the College's new Master of Fine Arts degree program in creative writing.

Kenneth Krauss, Daniel Nester, Hollis Seamon, Rone Shavers and Barbara Ungar will read from their most recent works Thursday, September 20, at 7:30 p.m. in the Standish Rooms, Events and Athletics Center (Second Floor), 420 Western Ave., Albany. The program is free and open to the public.

Kenneth Krauss (playscript writing) has written several books on theatre and drama, including Maxwell Anderson and the New York Stage and Private Readings/Public Texts, The Drama of Fallen France. His staged full-length plays include Don't Stand in the Doorway, There's a War Going On, Out of Nowhere and translations of Euripides' Electra and Seneca's Medea.

Daniel Nester (creative nonfiction, poetry, "Frequency North" creator) is most recently the author of How to Be Inappropriate (Soft Skull Press), a collection of humorous nonfiction. His first two books, God Save My Queen: A Tribute and God Save My Queen II: The Show Must Go On, center on his obsession with the rock band Queen. His work has appeared recently in Salon, The New York Times, n+1, The Daily Beast and McSweeney's Internet Tendency.

Hollis Seamon (fiction) is the author of two novels, Flesh and the forthcoming Somebody Up There HATES You (Algonquin Books, 2013). She also is the author of two short story collections: Body Work and Corporeality. She has published short stories recently in Bellevue Literary Review, Greensboro Review, Fiction International, Chicago Review and Nebraska Review.

Rone Shavers (fiction, literary criticism) publishes in multiple genres. His fiction has appeared recently in ACM: Another Chicago Magazine, milk magazine, Identity Theory, nthWORD, Pank, and Warpland: A Journal of Black Literature and Ideas, while his essays and reviews have appeared in such publications as BOMB Magazine, EBR: Electronic Book Review, The Los Angeles Reader and The Quarterly Conversation.

Barbara Ungar (poetry) is most recently the author of Charlotte Brontë, You Ruined My Life. Previous poetry books include Thrift and The Origin of the Milky Way, which won the Gival Press Poetry Award, an IPPY Silver Medal, the Adirondack Center for Writing Poetry Award and an Eric Hoffer Award. Ungar also is the author of Haiku in English and several chapbooks.
The remaining "Frequency North" schedule follows. All are free and open to the public. For more information, visit the website at FrequencyNorth.com or follow on Twitter @frequencynorth:
– Thursday, October 18, 2012, 7:30 p.m. – Anne Trubek: National Day on Writing
– Thursday, November 15, 2012, 7:30 p.m. – Melissa Febos and Eduardo C. Corral
– Thursday, February 7, 2013, 7:30 p.m. – Nitty Gritty Slam
– Thursday, March 21, 2013, 7:30 p.m. – Kaya Oakes and David Yezzi
– Thursday, March 28, 2013, 7:30 p.m. – Darin Strauss and Michael Meyerhofer
– Sunday, April 7, 2013, 2 p.m. – Pitchapalooza! Returns
– Thursday, April 11, 2013, 7:30 p.m. – Meg Kearney and M. Bartley Seigel