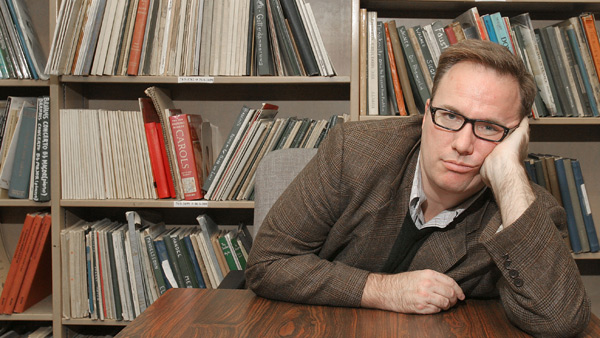 Our very good friend (and Nitty Gritty DJ) Daniel Nester just announced the schedule for the upcoming Frequency North Reading Series 2012 – 2013 season. Again this year, Daniel has pulled together an amazing list of talented writers to come speak at Saint Rose.
Frequency North, the visiting writers reading series at The College of Saint Rose, returns with a vengeance, presenting the most extensive lineup of outstanding authors and poets in its eight-year history.
Season 8 kicks off Thursday, September 20, with a reading by Saint Rose writing faculty to celebrate the launch of the College's new master of fine arts degree in creative writing.  Acclaimed writerAnne Trubek reads Thursday, October 18, as the series takes part in the National Day of Writing.  Prize-winning young poet Eduardo C. Corral and former dominatrix now author Melissa Febos drop in to read Thursday, November 15.
The 2013 readings start with a slam when the Nitty Gritty Poetry Slamcomes to Saint Rose Thursday, February 7.  March offers a twofer: provocative author Kaya Oakes and Albany-native poet/actor David Yezzi read Thursday, March 21, as part of the College's "Social Justice Week"; one week later (Thursday, March 28), bestselling writer Darin Strauss revisits with award-winning poet Michael Meyerhofer.  Sunday, April 7, marks the return of Pitchapalooza!, billed as "American Idol" for authors.  Season 8 wraps up Thursday, April 11, when the series marks National Poetry Month with Meg Kearney and M. Bartley Seigel.
The complete Frequency North Season 8 schedule follows after the jump.  All readings are free and open to the public.  For more information, visit www.FrequencyNorth.com or follow on Twitter @frequencynorth.
Thursday, September 20, 2012, 7:30 p.m. – M.F.A. in Creative Writing Launch, with Kenneth Krauss, Daniel Nester, Hollis Seamon, Rone Shavers and Barbara Ungar; Standish Rooms, Events and Athletics Center (Second Floor), 420 Western Ave., Albany
This reading celebrates the launch of The College of Saint Rose new Master of Fine Arts (M.F.A.) in creative writing with short readings of new work from the program's core faculty.

Kenneth Krauss (playscript writing) has written several books on theatre and drama, including Maxwell Anderson and the New York Stage, and Private Readings/Public Texts, The Drama of Fallen France. His staged full-length plays include Don't Stand in the Doorway, There's a War Going On, Out of Nowhere, and translations of Euripides' Electra and Seneca's Medea.

Daniel Nester (creative nonfiction, poetry)is most recently the author of How to Be Inappropriate (Soft Skull Press), a collection of humorous nonfiction. His first two books, God Save My Queen: A Tribute and God Save My Queen II: The Show Must Go On, center on his obsession with the rock band Queen. His work has appeared recently in Salon, The New York Times, n+1, The Daily Beast, and McSweeney's Internet Tendency.

Hollis Seamon (fiction)is the author of two novels, Flesh and the forthcomingSomebody Up There HATES You (Algonquin Books, 2013). She is also the author of two short story collections: Body Work and Corporeality. She has published short stories recently in Bellevue Literary Review, Greensboro Review, Fiction International, Chicago Review, and Nebraska Review.

Rone Shavers (fiction, literary criticism) publishes in multiple genres. His fiction has appeared recently in ACM: Another Chicago Magazine, Milk literary magazine, Identity Theory, NthWORD, Pank, and Warpland: A Journal of Black Literature and Ideas, while his essays and reviews have appeared in such publications as BOMB Magazine, EBR: Electronic Book Review, The Los Angeles Reader, and The Quarterly Conversation.

Barbara Ungar (poetry) is most recently the author of Charlotte Brontë, You Ruined My Life. Previous poetry books include Thrift and The Origin of the Milky Way, which won the Gival Press Poetry Award, an IPPY Silver Medal, the Adirondack Center for Writing Poetry Award, and an Eric Hoffer Award. She is also the author of Haiku in English and several chapbooks.
Thursday, October 18, 2012, 7:30 p.m. – Anne Trubek: National Day on Writing; Saint Joseph Hall Auditorium, 985 Madison Ave., Albany
As part of the College-wide National Day on Writing celebration, presented by the Writing Across the Curriculum Committee (WAC).
Saint Joseph Auditorium, 985 Madison Avenue, Albany NY

Anne Trubek is the author of A Skeptic's Guide To Writers' Houses, which has been hailed as "a remarkable book: part travelogue, part rant, part memoir, part literary analysis and urban history" and called "relentlessly witty." She has published articles in The New York Times, The Atlantic, Wired, Dwell, GOOD, The Oxford American, The American Prospect, The Washington Post, The Chronicle of Higher Education, among other publications. She has appeared on NPR's Weekend Edition, The Diane Rehm Show and Talk of the Nation. She has written reviews for B&N Review, The Washington Post, Mother Jones, Paste, Jewish Review of Books, Salon and elsewhere. Her essay, "Handwriting Is History," was chosen to be anthologized in The Best Technology Writing 2010.Co-editor of Writing Material: From Plato To the Digital Age, Trubek is an Associate Professor of Rhetoric and Composition at Oberlin College.
Thursday, November 15, 2012, 7:30 p.m. – Melissa Febos and Eduardo C. Corral; Standish Rooms, Events and Athletics Center (Second Floor), 420 Western Ave., Albany
Eduardo C. Corral's first book of poems, Slow Lightning (Graywolf Press), won the 2011 Yale Series of Younger Poets competition. His work has appeared or is forthcoming in Beloit Poetry Journal, jubilat,New England Review, Ploughshares, Poetry, andPost Road. A CantoMundo fellow, he's the recipient of a Whiting Writers' Award and the J. Howard and Barbara M. J. Wood Prize from Poetry. He has served as the Olive B. O'Connor Fellow in Creative Writing at Colgate University and as the Philip Roth Resident in Creative Writing at Bucknell University.

Melissa Febos is the author of the critically acclaimed memoir, Whip Smart (St. Martin's Press 2010), whichKirkus Reviews said "expertly captures grace within depravity." Among other places, she has been featured on NPR's Fresh Air with Terry Gross, Anderson Cooper's daytime show, Dr. Drew, the cover of the New York Post, and New York magazine. Her writing has been published and anthologized widely, in venues including Glamour, Salon, BOMB, Dissent, The Southeast Review, The Brooklyn Rail, The New York Times, Bitch Magazine, The Chronicle of Higher Education Review,  and on The Nervous Breakdown.  For five years, she has co-curated and hosted the popular Mixer Reading and Music Series at Cake Shop in Manhattan. She has taught writing at SUNY Purchase College, The New School, NYU, Sarah Lawrence, Utica College, and privately. She speaks widely, and lives in Brooklyn, where she is currently at work on a novel about music, madness, and dioramas.
Thursday, February 7, 2013, 7:30 p.m. – Nitty Gritty Poetry Slam; Standish Rooms, Events and Athletics Center (Second Floor), 420 Western Ave., Albany
Since September 2011, poets have been slamming the stage on the first and third Tuesdays at Valentine's Music Hall and Beer Joint (17 New Scotland Avenue). Albany's first-ever official slam, certified by Poetry Slam, Inc., Nitty Gritty fielded the first-ever team to represent Albany at a National Poetry Slam, held last summer in Charlotte, North Carolina. This special edition of NGS welcomes all members of the community to slam, judge, cheer, jeer, or participate in the open mic. Members of Team Nitty Gritty will perform, as well as special guests.
Thursday, March 21, 2013, 7:30 p.m. – Kaya Oakes and David Yezzi; Hubbard Interfaith Sanctuary, 959 Madison Ave., Albany
Kaya Oakes' third book, Radical Reinvention: An Unlikely Return to the Catholic Church, was published in 2012 by Counterpoint Press. Her previous nonfiction book, Slanted and Enchanted: The Evolution of Indie Culture, was published by Henry Holt in 2009 and was selected as a San Francisco Chronicle notable book. She's also the author of a collection of poetry, Telegraph, which received the Transcontinental Poetry Prize from Pavement Saw Press. In 2002, Kaya co-founded Kitchen Sink Magazine, which received the Utne Independent Press Award for Best New Magazine in 2003. She edited and wrote for Kitchen Sink until it ended its print run in 2007. Since 1999, she's taught writing at the University of California, Berkeley. Oakes has been the recipient of teaching fellowships from the Mellon Faculty Institute and the Bay Area Writing Project, as well as writing awards from the Academy of American Poets. She lives in Oakland, CA.

Born and raised in Albany, NY, poet David Yezzi is the author of The Hidden Model (TriQuarterly 2003) and Azores (Swallow 2008), a Slate magazine best book of the year. He is the editor of The Swallow Anthology of New American Poets (2009). His work has appeared in such places as The Atlantic,  Paris Review,  New Republic,  Best American Poetry,  Yale Review, andPoetry. A former director of the Unterberg Poetry Center of the 92nd Street Y in New York, he serves as executive editor of The New Criterion. His libretto for a chamber opera by David Conte, Firebird Motel, received its premiere in San Francisco in 2003; he is currently at work on a libretto of F. Scott Fitzgerald's The Last Tycoon for composer Cyril Deaconoff and West Bay Opera. His essays and reviews have appeared in The New York Times Book Review, The New Yorker, The Wall Street Journal, The (London) Times Literary Supplement, and elsewhere. As an actor and co-founder of Thick Description, a San Francisco theater company, Yezzi has performed in works by Shakespeare, Shaw, Brecht, Goethe, Williams, and others, in the United States and Europe. A former Stegner Fellow, Yezzi teaches in the low-residency MFA program at Western State College in Colorado and in the writing program of the Unterberg Poetry Center of the 92nd Street Y. He lives in New York City with his family.
Thursday, March 28, 2013, 7:30 p.m. – Darin Strauss and Michael Meyerhofer; Standish Rooms, Events and Athletics Center (Second Floor), 420 Western Ave., Albany
A recipient of the Guggenheim Fellowship and a winner of the American Library Association's Alix Award and The National Book Critics Circle Award, internationally-bestselling writer Darin Strauss is the author of the novels Chang & Eng, The Real McCoy, and More Than It Hurts You. His most recent book is the NBCC-winning memoir Half a Life (McSweeney's, 2011), which Elizabeth Gilbert (Eat, Pray, Love) describes as an "unusually honest, thoughtful and unsettling memoir." His books have been New York Times Notable Books, as well as Newsweek, Los Angeles Times, San Francisco Chronicle, Amazon, Chicago Tribune, and NPR Best Books of the Year. His work has been translated into fourteen languages and published in nineteen countries. He is a Clinical Associate Professor at NYU's creative writing program.

Michael Meyerhofer's most recent book, Damnatio Memoriae, won the Brick Road Poetry Book Contest. His previous books of poetry are Blue Collar Eulogies (Steel Toe Books, finalist for the Grub Street Book Prize) andLeaving Iowa (winner of the Liam Rector First Book Award). Individual poems have won the Marjorie J. Wilson Best Poem Contest, the Laureate Prize for Poetry, the James Wright Poetry Award, and the Annie Finch Prize for Poetry. His work has appeared in a number of journals, including Ploughshares, Hayden's Ferry Review, North American Review, River Styx, and Asimov's Science Fiction Magazine. He is the poetry editor of Atticus Review, and also dabbles in speculative fiction, with a fantasy series forthcoming from Double Dragon Publishing.
Sunday, April 7, 2013, 2 p.m. – Pitchapalooza! Returns; Standish Rooms, Events and Athletics Center (Second Floor), 420 Western Ave., Albany
It's called Pitchapalooza. It's billed as "American Idol" for authors (only without Simon).  And it's returning to The College of Saint Rose! Local authors will have a chance to land a book deal when Pitchapalooza comes to Saint Rose Sunday, April 15, at 2 p.m. in the Saint Rose Events and Athletics Center, 420 Western Ave. (Standish Conference Rooms, second floor), Albany. At Pitchapalooza, 20 writers will be selected at random to pitch their book ideas.  Each writer will have one minute to make the best pitch possible to Arielle Eckstut and David Henry Sterry, authors and Pitchapalooza creators, along with guest judges.  At the end, the judges will pick a winner, who will receive an introduction to an agent or publisher appropriate for his or her book.

Eckstut and Sterry will help aspiring authors improve their pitch, not tell them how bad it is.  The judges will critique everything from idea to style to potential in the marketplace.  Aspiring authors will receive concrete advice as well as a greater understanding of the ins and outs of the publishing industry.

Arielle Eckstut and David Henry Sterry are co-founders of The Book Doctors, a company that helps authors get their books published, and co-authors of The Essential Guide to Getting Your Book Published: How to Write It, Sell It and Market It…Successfully (Workman, 2010). Eckstut has been a literary agent for 18 years at The Levine Greenberg Literary Agency and is the author of seven books.  Sterry is the best-selling author of 12 books on a wide variety of subjects including memoir, sports, young adult fiction and reference. The couple have taught their workshop on how to get published nationwide and have been covered by The New York Times, NPR's "Morning Edition" and USA Today.

To sign up for a chance to pitch, authors must purchase a copy of Eckstut and Sterry's book, in advance at The Book House in Stuyvesant Plaza or online atwww.thebookdoctors.com, or at the Pitchapalooza door.  For those just wanting to watch, the event is free.  Purchasing also includes a 20-minute consultation with Eckstut and Sterry.
Thursday, April 11, 2013, 7:30 p.m. – Meg Kearney and M. Bartley Seigel; Standish Rooms, Events and Athletics Center (Second Floor), 420 Western Ave., Albany
Meg Kearney's most recent collection of poems,Home By Now (Four Way Books 2009), was winner of the 2010 PEN New England LL Winship Award. The title poem of Home By Now is included in Garrison Keillor's Good Poems: American Places anthology (Viking Penguin 2011). Her first collection of poetry, An Unkindness of Ravens,was published by BOA Editions Ltd. in 2001. The Secret of Me, her novel in verse for teens, was released in 2005 by Persea Books. Its sequel, The Girl in the Mirror, came out this year. Kearney's first picture book, Trouper the Three-Legged Dog, is forthcoming from Scholastic in 2013 and will be illustrated by E.B. Lewis.

Kearney's poetry has been featured on Poetry Daily and Garrison Keillor's "A Writer's Almanac," and has been published in such publications as Poetry, Agni, and Ploughshares. She is Founding Director of the Solstice Low-Residency M.F.A. in Creative Writing Program at Pine Manor College in Chestnut Hill, Mass. For eleven years before that, she was Associate Director of the National Book Foundation (sponsor of the National Book Awards) in New York City. She is the recipient of fellowships from such places as New Hampshire Council on the Arts, Virginia Center for the Creative Arts, New York Foundation for the Arts, and the Academy of American Poets Award. A native New Yorker, Meg currently resides in New Hampshire with her three-legged black Lab, Trooper.

M. Bartley Seigel (Matt) is Assistant Professor of Creative Writing & Diverse Literatures at Michigan Tech and is founder of [PANK] a nonprofit literary arts collective that includesPANK Magazine, the Little Book Series, the Invasion Readings across the country. He is the author of the poetry collectionThis Is What They Say (Typecast Publishing 2012). His writing has also appeared in or is forthcoming fromsecretjournalmagazine, H_NGM_N, The Lumberyard, Michigan Quarterly Review, Forklift, Ohio, Cell Poems, Bluestem, Bateau, Necessary Fiction,Monkeybicycle, Dogzplot, Wheelhouse, DIAGRAM, and elsewhere. He lives in Houghton, Michigan, with his family.