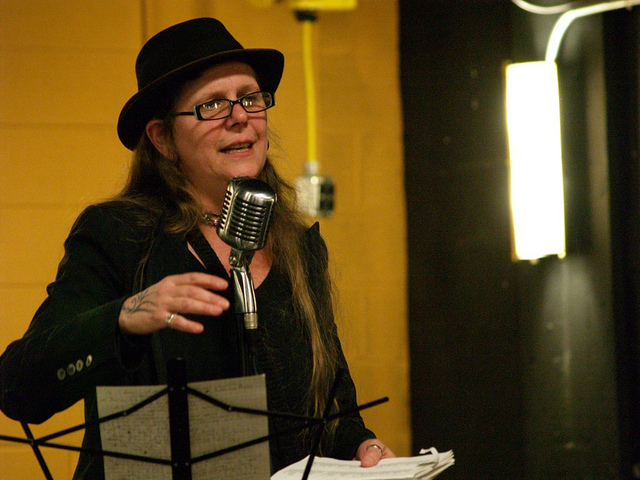 One of the original poets on the Albany Poets website, way back in 2000, was A.C. Everson. She is an incredible poet and artist and we are very, very lucky to have her in our community here in Albany. She is always finding new and exciting ways to combine her powerful poetry and amazing pinatas into her performances. She recently sent us a new poem for the site, Bad Daughter.
A.C. Everson –a.k.a. the piñata queen– a local homegrown poet, sculptor and performance artist. I attempt to shed a new light on the many uses of piñatas (that I make) as an art form, and as the main feature in my various Breaking My Art performances which I have done coast to coast, along with reading my poetry in three countries (including this one) I have three chap books entitled Soap Box and My Two Cents , Love AC Style and And Then Some that I print myself and are available upon request. I also have recorded two CD's "Words With" and "Idi Annine and the Mama's" with Albie, Mitch Elrod, Steve Candlen, Tony Parino, Bill Rella and Mother Judge to name a few of the area's most excellent musicians backing me up.
Head on over to her page on the website to read her new poem as well as some favorites from the past, My Not So Mid-Life Crisis on the Planet, L.A. Moment, Broken Smile, and My Libido is Missing.