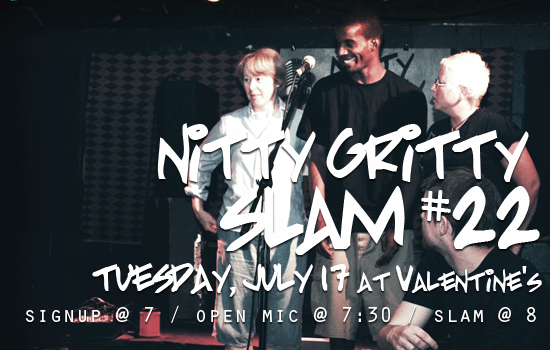 It was another hot night in Albany, but we were back downstairs, in cooler air, for another edition of the Nitty Gritty Slam at Valentine's on July 17. This evening though seemed a little different with a much smaller crowd and a quieter atmosphere. But that did not stop the poetry.
The open mic began, almost on time, with Mojavi welcoming Jay, Emily Gonzalez, Thom Francis, Jessica Layton, and Poetyc Visionz to the stage.
We then moved into the 22nd installment of the Nitty Gritty Slam with six poets (Poetyc Visionz, Algorhythm, L-Majesty, Kevin Peterson, Elizag, and Shannon Shoemaker) mostly representing Team Nitty Gritty. The first round was very close, so close in fact that we had to have five poets in the second round.
Round One:
Poetyc Visionz – 26.9
Algorhythm – 28.5
L-Majesty – 27.1
Kevin Peterson – 27.7
Elizag – 28.5
Shannon Shoemaker – 27.1
Round Two:
Shannon Shoemaker – 28.2 (Combined 55.3)
Elizag – 29.1 (Combined 57.6)
Kevin Peterson – 28.8 (Combined 56.5)
L-Majesty – 27.6 (Combined 54.7)
Algorhythm – 28.6 (Combined 57.1)
Round Three:
Algorhythm – 29.8
Elizag – 28.3
In the end, after an overtime plenty which would have lead to a tie, Algorhythm came out on top as NGS #22 champion.
Join us on Tuesday, August 7 for a special edition of the Nitty Gritty Slam with some new faces at the helm. Mary Panza, Keith Spencer, and Daniel Nester will be taking over for the night, because Thom, Mojavi, and the rest of Team Nitty Gritty will be down in Charlotte for the National Poetry Slam.
We will be live tweeting all of the bouts that Team Nitty Gritty will be competing in. Be sure to follow @NittyGrittySlam on Twitter to follow along. The first round bouts that the team will be competing in begin on Wednesday night, August 8 at 7:PM against Jersey City Slam, Bama Slam, and the Louisville Poetry Slam. The next night at 9, Team Nitty Gritty will be competing against Pierced Ear Poetry Slam, Puro Slam, and the perennial favorite, Nuyorican. You can check out the the entire first round bout draw here  – http://nps2012charlotte.com/files/NPS2012_BoutDraw.pdf
There is still time to help the team with the travel and lodging expenses. Go to the support page for more information on how you can help.
[pwaplusphp album="NittyGrittySlam22July172012″]