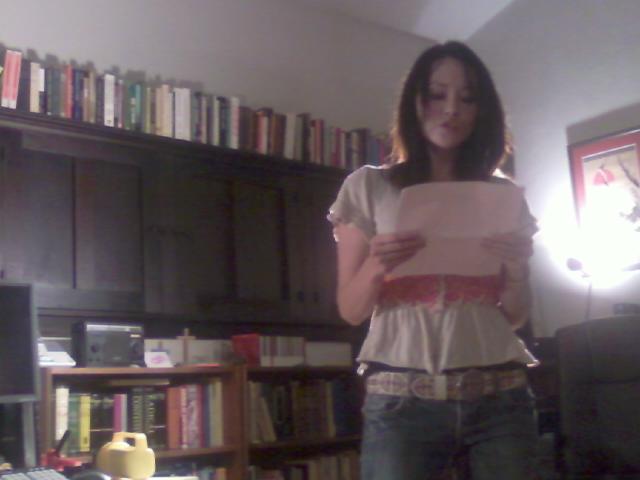 There is so much going on in Albany during Word Fest week this year and one of the hot spots is the Social Justice Center on Central Ave with poetry three nights in a row. Tonight is the Yes! Communal Reading Event, tomorrow is the Third Thursday Poetry Night featuring Christopher The Poet, and on Friday the Yes! Poetry & Performance Series is finishing up their season this coming Friday at the Social Justice Center with a huge show featuring poetry, performance, music, lecture, and to top it all off, a dance party!
It's the last Yes! of the season, featuring 2 great poets, Kim Gek Lin Short and Tim Trace Peterson, "No One Knows": a dance performance by Rachelle Smith-Stallman (with a troupe of multimedia collaborators), and a lecture on obscure 70s punk from Paul Weaver. To be followed by a punk dance party!

Kim Gek Lin Short is the author of The Bugging Watch & Other Exhibits and the forthcoming China Cowboy, both from Tarpaulin Sky Press, as well as the chapbooks The Residents (dancing girl press) and Run (Rope-a-Dope), a Golden Gloves selection. Her work appears in numerous publications like Caketrain, Everyday Genius, and PEN America and in anthologies like Narrative (Dis)Continuties: Prose Experiments by Younger American Writers. She lives in Philly where she co-curates the reading series General Idea, and is an editor at Coconut.

Tim Trace Peterson is the author of Violet Speech (2nd Avenue Poetry) and Since I Moved In (Chax Press). Peterson is the editor/publisher of EOAGH, is co-editing the forthcoming Gil Ott: Collected Poems (Chax Press), and also co-editing the forthcoming Anthology of Trans and Genderqueer Poetry (EOAGH/Nightboat Books). Peterson has curated the Tendencies: Poetics & Practice talks series on queer poetics and the manifesto for the past 3 years at CUNY Graduate Center.

Paul Weaver hosts an early punk dj night – Breakout! 1975-1980 – in Columbus, Ohio. He studied philosophy at Ashland University and toured for three years as lead guitarist of the punk band The GC5.

Rachelle Smith-Stallman, dancing most of her life, finds the obvious healing and exhilarating quality that movement provides. She loves choreographing, performing and making connections though movement that allows growth, creativity and discovery for herself and for others. She fell in love with experimental dance at the University of New Mexico in the 70's and this all helped to shape her life.

& Collaborators:

Nick Thayer has experimented with many different forms of video. He last worked with Rachelle on "Pop Crackle Circuit" for Living Walls Performs.

Gabe Stallman is a senior at Doane Stuart School and he eats lives and breathes music! This is his 3rd collaboration with his mother!

Diane Betts, another lifelong dancer in ballet, modern and Nia is happy to dance again with Rachelle. She last performed with her in "Against the Wall" at the Marketplace Gallery.

Nick Nealon is the king of lights and lends his extraordinary talent and pizazz to any performance!
This is going to be a great night to be in Albany between this! event and UGT's Skit Happens show right down the street at The Linda. For more information on this event, head on over to the Facebook event page and for the full schedule of events for the 2012 Albany Word Fest check out the Word Fest website.