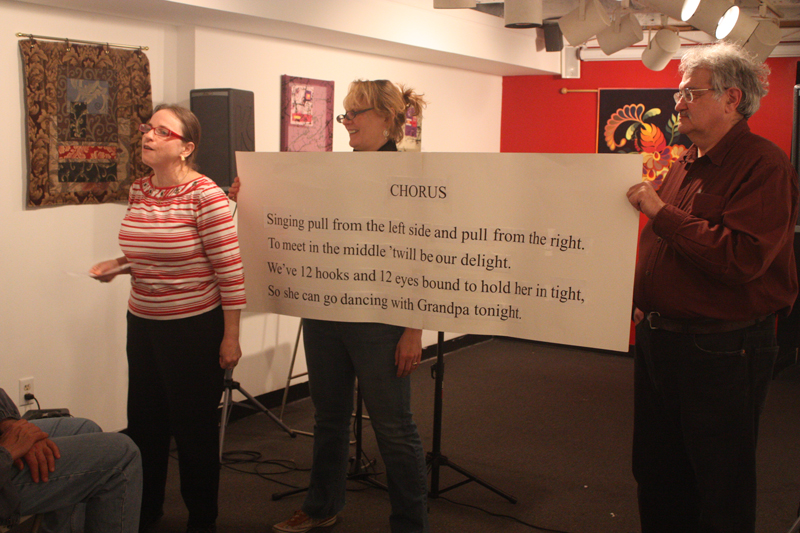 The first 12-Hour Word Fest Open Mic took place at the 2009 Albany Word Fest. In an effort to give everyone an opportunity to share their word at the annual event, we held the open mic portion from 7:00PM Friday, April 17 to 7:00AM on Saturday, April 18. We began the night without any chairs, which Mary mentioned in her recent post, but we quickly were able  to find everyone a seat.
The open mic once again was jam packed with poets from all over the area including Frank Robinson, Harvey Havel, Terri Klein, Tom Nicotera, Joan Pavlinsky, Cheryl A. Rice, Don Levy, Joe Krausman, Anthony Bernini, John Raymond, Jason Crane, Julie Lomoe, John Weiler, Todd Fabozzi, Bless, Shannon Shoemaker, Dominick Rizzo, Matt Galletta, Tim Verhaegen, Dennis Sullivan, Mimi Moriarty, Frank Desiderio, and Tom Corrado along with featured groups of performers from Woodstock, Voorheesville, Albany, and all three of that years Metrolands Best Poets (Mary Panza, Dan Wilcox, and R.M. Engelhardt).
Dan Wilcox has a write-up on his site talking about the Open Mic.
More videos from the 2009 Albany Word Fest Open Mic
As the night turned into early morning there was not much poetry happening. And some of us began to nod off, a few poets (A.C. Everson, Sylvia Barnard) wondered in and shared their work as we brought the Open Mic to a close.
After a little nap, the PCF returned to the UAG Gallery on Saturday night with a great mix of music and poetry by The Rambling Jug Stompers, Ed Rinaldi, Mother Judge, Margot Malia Lynch, Daniel Nester, and Murrow.