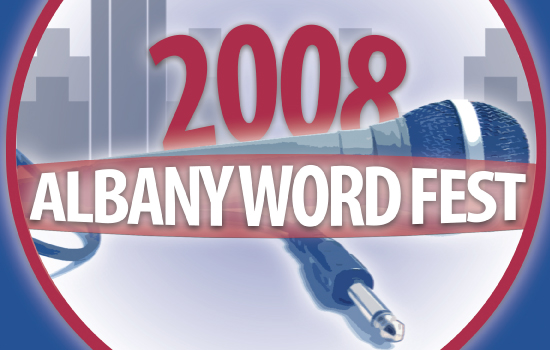 The 2008 Albany Word Fest followed a similar format to the 2007 event, but without the midday performances on Saturday. We gathered at the UAG Gallery on a beautiful spring Friday night for the annual Word Fest Open Mic hosted by Mary Panza. We had poets perform from all over the east coast this year as Max Parthas and Tribal Raine traveled up from South Carolina to be a part of Word Fest weekend, taking part in both days events.
The open mic was a great mix of old faces and new friends all stepping up to the mic to share their work with another overflow crowd at the gallery. A lot of the poets on stage were familair to the crowd like Alan Catlin, Therese Broderick, Bob Sharkey, Dan Wilcox, Joe Hollander, Tim Verhaegen, Sylvia Barnard, and Dain Brammage.
According to the records of the event (yes, we do keep records of these things) only about half of the poets who signed up online actually showed up to participate. That only made more room for the poets who were not able to sign up ahead of time as they were added to the list as the evening went along.
Dan Wilcox has a more complete rundown and his thoughts on the 2008 Word Fest Open Mic on his website http://dwlcx.blogspot.com/2008/04/albany-wordfest-2008-part-2-open-mic.html
On the next night, the Word Fest concluded with the Psycho Cluster F#*k 2008. We decided to take the PCF from Valentine's and scale it down and bring it back to the UAG. This year's event featured a great mix of poetry, music, and art with performances by Max Parthas, Dain Brammage, Nicole K, The Poet Essence, Mary Panza with John Weiler, and Thom Francis with Keith Spencer and Aaron Christensen. Nicole and Thom both utilized video to make a complete, multimedia package combining music, words, and moving pictures to tell a story.
The 2008 Word Fest was a smaller affair, taking place only at the UAG Gallery and featuring a quieter, subtler tone, but we were about to change all of that in 2009 with the introduction of the 12-Hour Word Fest Open Mic.
Be sure to join in the excitement of the 2012 Albany Word Fest that will be starting next Sunday, April 15 and going through the week concluding at Valentine's on Saturday, April 21 with Karaoke + Poetry = Fun! Check out albanywordfest.com for the complete schedule of events.