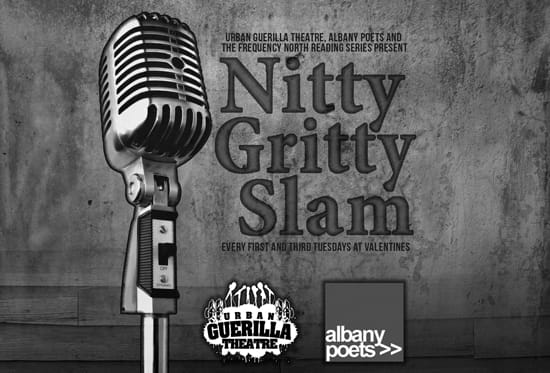 The next installment of Nitty Gritty Slam is tomorrow night at Valentines. We are back downstairs for the festivities and ready to rock!
Who will come out on top at NGS #13? Will Shannon "In The Money" Shoemaker return to the spot? Will we see more perfect 10s? Will we see an upset from a new face on the scene?
Slam Master Dain Brammage says:
The Slam community keeps growing, more new faces show up to each event.  At Slam #11 in addition to the new faces in the crowd we had three new slam poets appear on stage and one of them, Tenesha S., took third, plus, drum roll please, one of them, Steven Valentine, took first!  Now if we could get everyone to converge at once it would be one hell of a show.
Here is what Host/MC Mojavi has to say about tomorrow's event:
Nitty Gritty Slam number 13 is about transformation, the transforming of poets in to warriors and wordsmiths bend verbs and able to leap over 3:00 mins in a single bound! Watch these poets become slammers and stanza line break hammers away at the emotions and mentals of the judges and crowd! Transform from the norm, and the way that open mica used to be… Come SLAM with me! Nitty Gritty Slam!
In other news, Elizag revealed that she has registered to compete at the Women of the World Poetry Slam (WOWps) in Denver Co. in March.  WOWps is a National Event run by Poetry Slam Inc.  She is taking this shit pretty seriously folks, and her performances have proved that.
All regular slam poets that appear at the Nitty Gritty Slam should consider registering with PSi, it costs you as little as $20, more if you are feeling generous.  You need to be registered with them if you want to compete in the National Events plus it is a great way to support Nitty Gritty Slam and show PSi the we are serious about our spart (Sport and ART combined for those not in the know).
NITTY GRITTY SLAM takes place at Valentines (17 New Scotland Ave.) on the first and third Tuesday's of each and every month. If you are not into slam, but want to get on stage and share your work, we do have an open mic for poetry and spoken word before the slam.  Sign up begins at 7:00PM, open mic starts at 7:30PM, and the slam starts at 8:00PM. Admission is $5.00 ($3.00 with student ID).