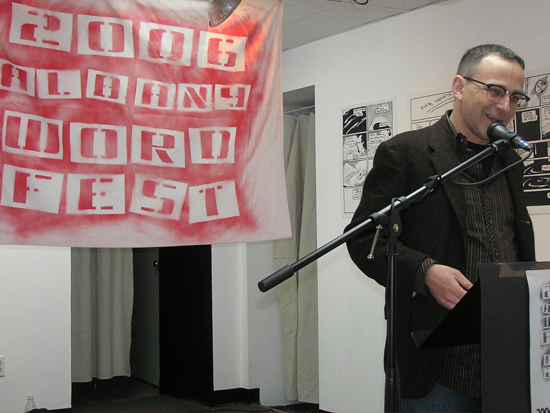 After the success of the expanded 2005 Albany Word Fest, we continued the two-day poetry festival in 2006 as we held events at the UAG Gallery, Tess' Lark Tavern, and Valentine's to celebrate not only National Poetry Month, but the great poetry and spoken word community here in the upstate NY region.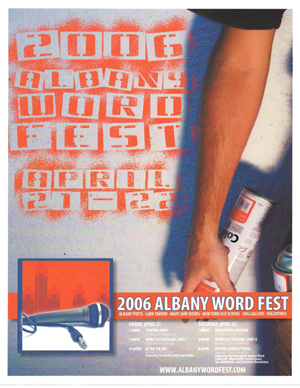 We kicked everything off at Tess' Lark Tavern for a meet and greet cocktail party before heading down to the UAG Gallery for part one of the Word Fest Open Mic. Once again Tess and her crew fed the poets so that we were not performing on empty stomachs.
Because of the overwhelming response to the Word Fest Open Mic in 2005, we decided to have two open mic sessions to give as many poets as possible time to get on the mic and share their work. The first Open Mic session was Friday night at the UAG and the second at Valentine's before the Psycho Cluster F#*k on Saturday.
[pwaplusphp album="2006AlbanyWordFestOpenMic"]
For the 2006, as a way to say thank you and to acknowledge all of their hard work to keep the art alive, we invited hosts of the local poetry open mics to be our featured poets at the Word Fest Open Mics. Some of the hosts who performed were Marylin Lytle Barr, Teresa Costa, R.M. Engelhardt, Carol Graser, Mary Kathryn Jablonski, JJ Johnson, Don Levy, Phillip Levine, Reggie Marra, Robert Milby, Mary Panza, Nicole Peyrafitte, Shirley Powell, Guy Reed, William Seaton, and Keith Spencer.
The Open Mics were again a "who' s who" of the upstate poetry community, overflowing from the venues onto the city sidewalks. Poets that participated included Shuan Baxter, Alan Catlin, Mimi Moriarty, The Poet Essence, Screamer, Bob Sharkey, Josh McIntyre, A.C. Everson, Anomaly, Karin Maag-Tanchak, Tim VerHaegen, Ron L. Wise, Katisha Burt, Adarro Minton, Miriam Axel-Lute, Mojavi, Anthony Bernini, Stacey Stump, Alifair Skebe, Dain Brammage, John Weiler, Julie Lomoe, and Cheryl A. Rice.
[pwaplusphp album="2006AlbanyWordFestPsychoClusterFK"]
The Psycho Cluster F#*k returned to the upstairs stage at Valentine's and was jam packed with talent featuring the poetry, music and spoken word of Jared Funari, Tom McWatters, Algorithm, Evolution Revolution, and the Intangible Collective.
This was our biggest Word Fest to date with two separate open mics, a full PCF line-up, a showcase of visual artwork by Dan Wilcox, Dain Brammage, and Marcus Anderson, a special High School Open Mic, book and CD sales, and musical performances after the Friday mic. We set the bar pretty high in 2006, so we had a lot of work on our hands for 2007.