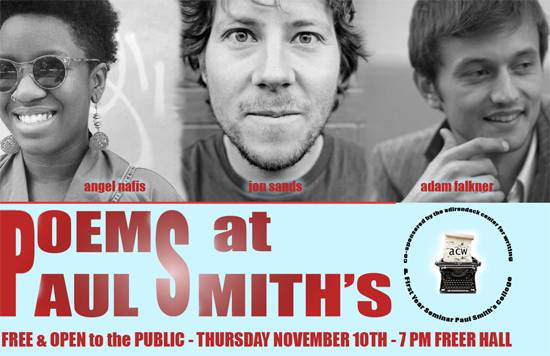 We apologize for the late notice on this reading happening tonight up at Paul Smith's College with Angel Nafis, Jon Sands, and Adam Falkner. Here is the info from the Adirondack Writing Center:
This is not your grandma's poetry. This is not even your mom's poetry. Get ready to have your rhythms rearranged by three performance poets from Brooklyn. Angel, Jon and Adam are young, they're honest, and their words are magical. With a creative blend of literature and theater, wordplay and passion, they perform a new type of poetry. They'll make you laugh at the most serious topics, wrench your gut with irony, and leave you wishing it was never over. These guys are at the top of the spoken word world, and it's an honor to see them in the Adirondacks.

Join us on Thursday November 10th at 7 PM in Freer Hall at Paul Smith's College to cheer them on. Free and open to the public.
Co-sponsored by the Adirondack Center for Writing and the First Year Seminar at Paul Smith's College.