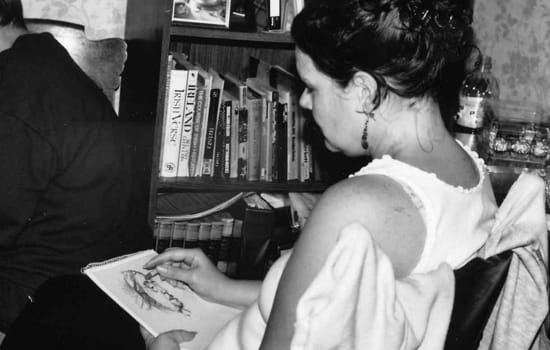 As you may have noticed, we have been adding new poetry on the site from the many local poets that we currently have featured here. One poet in particular that we wanted to get some new work from was Kristen Day. Her poetry has always been thought provoking and from an interesting point of view. Kristen has been on the scene here in Albany for over ten years and was one of the featured poets at one of Albany Poets first readings in 2000 at the Changing Spaces Gallery. Her photos have been seen all over the area and have been used on this website over the years as she documents the many open mics and readings that happen in the area.
Kristen Day is an artist/writer living in Albany, NY. In the visual arts she enjoys painting, drawing, photography and particularly using all these mediums in collage. She has been attending various writing workshops affiliated with International Women's Writing Guild for some time, and, more recently, has been attending many local poetry readings/open mics with much delight in the ingenuity and artistry she has encountered there.
She sent us three new poems; The 6:20 and the 2:45, To Amy, and Summary of a Meeting to add to AlbanyPoets.com.