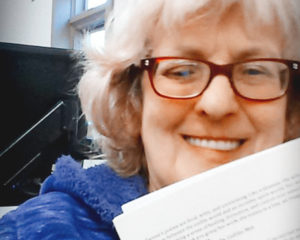 I have been writing poetry quite steadily since 1973, after being turned on to Captain Beefhart and Alice Cooper ( a somewhat strange combo). I have been featured extensively through-out the Hudson Valley, and have read in NYC, Venice, California and Albany, NY.
I was poetry director and host of the Cross St. Gallery for three and a half years, until the roof caved in. Currently I am hosting poetry readings at The Bohemian Book Bin , in Kingston, NY. Recently published in; HomePlanetNews and The Chronogram. I am listed in The American Poets & Writers Directory both the book & online versions. Self-published three chapbooks: Cosmic Orgasms, What We Breathe out and Bon` Appetite ( purposely misspelled to tick off the immature academic poets….it's a joke.).
I have featured w/ the late George Montgomery, the late Ray Bremser, back in the mid to late seventies…
POEMS
ELECTRICK ORGASM
He entered my box
Ivory snow
Sucked off my
Panasonic ovaries
Electrocuted himself.
PASSING TIME
The mouth
defecates
a world
starved
of love.
Unreasonable
speeds
dominate
reformed
inhabitants.
The need to
catch up
is silver
platters of
time
handed
multi-dimensionally.
The soul
screams
for placement
of
passions
grown.
It is
no wonder
time passes us
by with
second thoughts