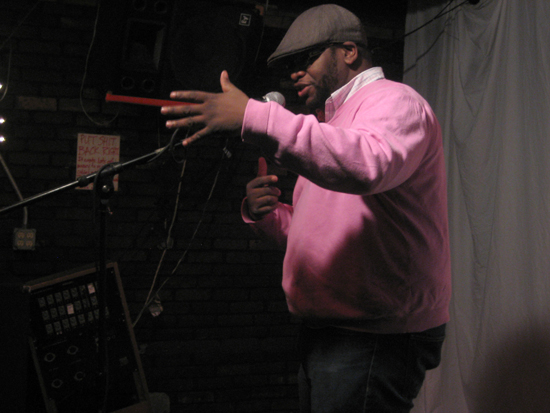 K. Mojavi Wright  has been actively writing  poetry since the age of 7.  it was a way to process his world in a place where children who wanted to read instead of playing  were treated as outcasts. poetry became  his way of  processing the world. In later years poetry became a firend and saving grace for his when he felt Love or lost it. The death of Family members and a sweet release of his pain and sorrows. he has self published two chapbooks: Verbal Hierogylphics vol. 1&2 . Mojavi has been on the  Albany Poetry Scene for many years  as a feature for past poetic havens and open mics  such as  the Lionheart Cafe, Lark tavern, Poet's in the park and Mother Earth's Cafe. He has read, slammed  and featured AS220 in Rhode Island, the Nuyorican Poetry Cafe,  The Sugar Shack Cafe in Harlem, Mangoes in Washington, Dc. He is the Co founder of the Decade long Reading known as SOUL KITCHEN and a member of the ALBANY POETS.  he is  currently the  Founder/Director of Urban Guerrilla Theatre a Poetry/Spoken Word Performance  Artist Group who dedicate their readings and shows to redefining the boundaries of Art, Peformance, Comedy. Live Music and Poetry. Centered at the linda their monthy Showcase  combines a diverse plethora of Arts, Music and Comedy in the  format of an open mic. Mojavi  is also one of the organizers and promoters of the newly minted NITTY GRITTY SLAM along side of Albany Poets and the Frequency North reading series at  the College of Saint Rose.
POEMS
RECENT ARTICLES
[su_posts posts_per_page="2″ taxonomy="post_tag" tax_term="1541″ tax_operator="0″ order="desc"][/su_posts]
STATE OF EDUCATION
Shaquanna is at it again
once more, a walk to the door/given the exit by circumstance
her mouth a dance a/LOUD, annoying, confusing,disrespectful
She does not want to take this test, she will not take this test
Boisterous this one is /growing LOUDER, DEMANDING attention
Through spit balls and smacking necks, unnecessary trips to the bathroom
Talking/ to and about /Nikki
who we all know now through Shaquanna's blatant wispers
"Nikki's father is in jail and her mother is on welfare
She saw her on the street collecting can's in a cart
no name brand clothes for her except Wal Mart
You remember the day food stamps fell out of her bag
or the time she wore white pants that let us know she was on the rag
and I had to sound off on her, her non affording tampon or wings, not even inserts
you must be a jerk walking around with tissue in your panties, you better check for the nurse"
…"Stupid Bitch!"
Nikki was made an example of/sad eyes and face of no tears
she cries inside/as to not to incite her peers/they laugh at her pain/Shaquanna shifts blame
as she pleads for temporary insanity/candidly assauging her vanity
"She was asking for it, I SWEAR!..it's not my fault everbody laughs..she's pitiful
I ain't got nuthin to do with that, oh yu still gonna write a referral card?..FINE!
Send me then! what is a referral anyway?
I got 30 of em so far and I ain't been suspended yet!
what is an hour to me? I still get home in time to watch Yugi OH and Cartoon Network
SHeeeeeeeit!(What did you say?!) I said nuthing GAWD!
you don't know me very well, I been kicked out of 3, count them, three elementary schools
this is my second juniror high, you can't stop me. don't even say anything to me…..
Call my mother, I 'll play you in front of her, tell her that you said that you are the liar, I 'll say that you talked unproffesional to me, that you said i would be pregant by the time i am 16, and i will be on welfare getting a check on the 1st and 15th.
I'll tell her that Nikki said something about her and you know that my mother don't play that gonna interrupt her on her second job my mother works! and you just gonna bother her she ain't gonna come in anyway she has not been to a parent teacher conference yet!!!
and she do not come in on her days off.. you can forget about it!!
as a matter of fact i will get you fired , you look at my breasts too much!
YES, I AM LEAVING GAWD!!!
Sitting in the Principals offiice/She has a devilish grin/She knows they can't hold her
She always does enough to pass
BEAUTIFUL WORDS VERSE TWO
you ain't a poet
just cause you write some words
It don't mean nuthin'"
I said: "OH I SEE!"
I guess POETS are supposed to be wearing all black
With a beret tilted to the side
Using wispy words to explain their existence
Ranting and raving about armchair political bull*bleep*
And why life is uglier than a muth!@#er
Granting tributary words to favorite poets
who have been dead for tens to hundreds of years
all my fears vented and circumvented
in a open mic for 3-5 minutes
for an audience binded by their own needs
to express, some to impress my best guess
they were all doing it for the love of poetry
but my poetry will make like a tree and leave
If a tree poet has plain poetry up his sleeve
Diarrhea of the mouth speaking *bleep*
Like they got a need to relieve
And that ain't poetry
Poetry is like a seed
Literally water it, lyrically it sprouts
Rooting itself in the earth of ! imagination's doubts
Spouting emotional shouts
Of what is and can be
Poetry is the universe of me
And I am GOD………….like
And in the beginning there was the pen
And the pen begat word and word was life
And I am creating soliloquies in the image of me
The poet, the pen and pad is a holy trilogy
I produce heaven and hell with my judgement
I write to bother, to shun, to spirit
Improving upon silence if no one needs to hear it
In the world which is my pad
And all works of my pen reflect me
Poetry is the universe of me
Is this too much blasphemy
How about inner city
Imagine me on some pimp poetree
Whorin' metaphor and I run the game
Sweet release be her name
More action than a verb while she walks the curb
Waiting for the next trick with some cash for that a$$ tonight
Smacking up my lyrics when my ballads ain't actin right
Don't you know Mack daddy makes his G's pimpin "P's"
To all the hoet's and wanna be'sNo?! how aboutbe addicted to the flow
Addict, Grammatically Chall enged not to be confused
Better yet, I am Poem dependant
Sharing verses in back alleyway cafes
With fellow fiends getting high off of
Two bit limericks, shooting up sonnets, O-D-ing on Odes
Cause all works of my pen reflect me
Poetry is the universe of me
My poetry is a hymn of my soul singing
And if you read between the lines
you will find the essence in my upbringing
in Elegies and Epics of time
my writing keeps me sane
like a complicated jazz riff from John Coltrane
and yes, my poetry be like Jazz man real Jazz
Pizazz and dazz with cool cats, Ella Fitzgerald and Sarah Vaughn Scats
Mingus and Monk on the Ivories, with Bird and Trane on Sax
Miles Davis on the trumpet and Elvin Jones on the Taps
Playing out the Celestial Symphony
And Jazz
Jazz be like Poetry
And Poetry is the translation of me
And I write for my soul, my history, the beauty and tragedy
Of all life is, was and can be
And it does not matter what you see
Poetry is the universe of me
Real