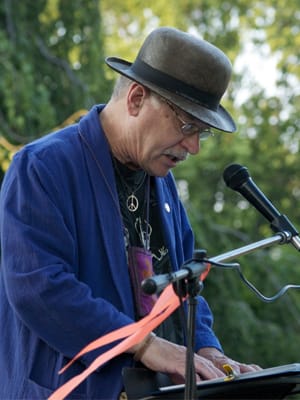 Dan Wilcox – Poet, Peace Activist — Host of the third Thursday open mic for poets at the Social Justice Center, member of 3 Guys From Albany, and photographer who has "the world's largest collection of photos of unknown poets." Member of Veterans for Peace
POEMS
RECENT ARTICLES
[su_posts posts_per_page="2″ taxonomy="post_tag" tax_term="1543″ tax_operator="0″ order="desc"][/su_posts]
CHANNELING RICHARD BRAUTIGAN
I wake up
next to Last Night's
Girl —
I'm still
in the Promised
Land.
AVE. A GIRLS
The Ave. A girls
of my dreams
in the bar
of my past's future
the world has
caught up with it
spilling
along the way
Jimi Hendrix
Janis
John Lennon.
Now it's filled
with belly buttons
tattoos
earrings everywhere
except ears.
I've aged out
of this street
this business
now the children
who were not
are no longer
children.
PENS
(for Don Levy)
Discarded pens
in the avenues of the park
black busted Bics
along the pathways of the city
capless stick pens in the grass
cheap broken pens
leaking in the gutter
the perfect blue rolling
ball with a bent clip
chewed but still working
Once could simply write
with a supply
of discarded pens
one could write forever
stooping to the sidewalk
for discarded pens.
"With these pens," the poet said
holding one cracked, black
felt tip triumphantly aloft
these pens one could write
the Great American novel
or a prodigious grocery list
of epic proportions!"
ORDERING LUNCH
"How do you want it?"
she asks
and I'm not quite sure
what she is talking about.
Waiting for my beer
listening to the jukebox reggae
I look at the smooth white
contours of her tee shirt
the dark animal fur of her eyes
her honey hair like morning light.
Waiting for Bob Marley
to reach the chorus
I touch the soft warmth of her arm
and almost tell her.
POEMS ABOUT POETRY
We speak with water on our tongues…
-Charles Olson
The waves are calling us
from the Circle of Moms
quite modestly undressed.
In my sunglasses
in the green reflection
I am a stranger
to myself my cock
restless beneath kites
pressed into the sand.
With a room-key in my pocket
I wear what you see
& walk the beach towards town.
I watch the horizon blend
& when it was over I was there
without saying the word "end".
ONE POEM
(for Changing Spaces Gallery)
One poem
that's all you can read
is one poem
a poem written last night
or today at work
or right here
right now
it could be unfinished
but
it can only be one poem
it could be your first time here
or your first time ever
or your only time
even your last time
but until tonight
we'd never know
the poem can rhyme
or not rhyme
but
it can only be one poem
it could be
dinner & tea in fading light
burning goddesses
dressed as LL Bean models
crawling on the bedroom floor
it could be kisses & politics
but
it can only be one poem
You could be
an old Albany poet
or a just-moved-in to Albany poet
a Woodstock poet, Kingston poet
a Saratoga poet
a hick poet
an urban poet
an academic poet
a self-published poet
an undercover cop poet
a fascist poet
a lousy poet
not a poet at all
even a dead poet
but
you can only read one poem
the poem could be
"the more satisfying game"
"carved spaces"
it could be
about what's up George Bush's ass
about the hope for peace
"monday morning blues"
about war
"making time"
it could be all cliches
but
it must be only one poem
you can ring bells
you can bang on drums
you can make people sing
or hum into kazoos
you can make them cry
or laugh
you can insult them
or give them bad advice
but
it can only be done in one poem
the poem could be about
love
loss
sex
quickies
deep or shallow love
it can be about
trying to get fucked
trying to avoid being fucked
trying not to remember being fucked
it could be tributes
or rants
or attacks
it could be
petty
or it could be
–petty
but
it can only be one poem
the poem could be about
the forgotten
or the wished for
or the living
it could be about
the mundane dead
or the great forever gone
the poem could be scattered about
in the pieces of a pinata
or be about movies
or radio
or television
especially television
but
it must only be one poem
you could be
an alkie
or a junkie
a lonely
a homely
a beauty
you could be
high
turned off
hungover
beat to shit
having to pee
or almost horny
you could be
broke
or merely incompetent
but
you can only read one poem
just one poem
one poem
& then we applaud.
DOT DOT DOT
(the ellipsis poem)
I stared at this girl on the street
she was wearing only … and …
I smiled & she smiled back
"Hi," she said, "I like your …
In my bedroom she …
& grabbed my …
we …
When she left, she thanked me
& I kissed her …
GEORGIA O'KEEFE'S HANDS
(from an exhibit in September 1997 at the Metropolitan Museum of Stieglitz's portraits of Georgia O'Keefe)
Georgia O'Keefe's hands
with a thimble
pinching cloth
into vaginas
hands like flowers
her fingers are petals
her wrist the stem
against her car
her hands like
curved chrome
framing black tires
lined knuckles
holding a corncob
smooth woman hands
against tree bark
one where she works
peeling vegetables
WHERE WERE THE PROFESSORS?
(for all those academic poets who only show up at poetry readings when they are paid)
When Charlene opened the doors and the poets charged in, fighting for the bottom of the list;
When you stood here, off stage, sweating, shaking and you realized you've had too many beers already;
When the podium shook and, blinded by the light, you wondered, "Is anyone out there?" and a beer bottle hits you;
Where Were the Professors?
When Matt Kelly confronted the homeless and greeted the ghosts of his buddies right here on this stage;
When Tanya read her poem to her father, Shiobhan her poem to her mother;
When Mary Panza's curses made cocks fall like dried leaves all along Central Ave.;
Where Were the Professors?
When Jon Drucker's landlord heard him all the way across town with the microphone off;
When Karl lit a candle before an icon and pondered death in his Russian soul;
When Tom fashioned tiny warheads into suppositories for the generals and politicians and I called for the death of Richard Nixon;
Where Were the Professors?
When we read poems about anything, including grandchildren and the heat;
When we argued on stage, off stage, along the bar, in the toilet, out the door, into the gutter until morning and a police horse shit in our faces;
When our notebooks dissolved in beer and we lost the best poem we ever wrote;
Where Were the Professors?
CONTEMPLATIO MORTIS
There is a day each year that will be carved
on my tombstone, printed in my obituary
the unknown bookend to my birthday
the future anniversary of my death.
A day that if we knew we would celebrate
each year, raise our wine, our beer to toast
to waking the next day until that year we didn't.
HENRY ROLLINS
(For Kathrine)
She tells me over the phone
a late night call
that there are radio stations
as far away as California
that I don't know about but
should listen to
playing into the tattooed night
to girls like her in nightgowns
like there was once Italian composers
writing music as children
as there is now this illustrated
man with thick arms
who writes with a ballpoint pen
not on his arms but in notebooks
the lady on the radio tells me, on
the Trans-Siberian Railroad
again, just like he said
in bed I look down
disappointed & limp
as she disappears into the silence
& giggles of late night radio.
27 THINGS YOU CAN DO WITH AN MFA
Hang it on the wall of the office where you worked before you got your MFA;
Use it as a tie to dress up for a chi-chi art opening;
Bring it to a poetry open mic so it learns something;
Take it to your local restaurant to use as a wick when the candle at your table goes out;
Use your Metrocard to take it for a ride on the bus;
Staple it to your job application at the Mall;
Eat it for breakfast so that at night your poetry doesn't stink;
Wear it as a shawl & see if anyone notices;
Give it as a "ticket to ride" to your favorite professor;
Submit it with your tax return for a complete refund;
Tell your doctor you don't need his pills, you can get high abusing your MFA;
Give it to your undertaker to use as your shroud when you die;
Take it to church so it can pray for redemption;
Fold it into a boat & float it on the trout stream of your desires;
Let your anorexic friend lick it for nutrition;
Wear it as a cologne to attract cougars;
Show it off as you walk down the street, twitching its ass like 2 cats in a burlap bag;
Pretend it is panties no one can remove;
Wrap it around your dick while you masturbate;
Put it between your legs for multiple, squishy orgasms;
Marry it as the husband you could not have;
Let it make you pregnant;
Stick a black boy's cock in it;
Send it to 17 different literary journals & don't tell them when it is published elsewhere;
Photocopy it 64 times & submit it as a manuscript over & over again;
Self-publish it as a chapbook & sell 6 copies;
Take it down from the wall, pick up a pencil, a cheap pen & write on the back of it your best, most sexy, most honest poem.
WHAT I FOUND AT THE BUS STOP WHEN THE SNOWBANKS MELTED
cigarette butts
a lottery ticket
coffee cups
someone's pen
a Bic lighter
a quarter
another purple coat
naked desires
someone else's fate
eternal love
immortality
peace in our time
a poem to appear in Best American Poetry 2010
someone who loves me
an Earth that breathes free
a language we can all understand