The third annual Saratoga Book Festival in downtown Saratoga Springs kicked off on Friday October 13th. But the event was all but spooky as writers and readers from all over came to share their love of literature.
On Saturday alone, sessions with authors, publishers, illustrators ran from 10 a.m. to 4 p.m. I attended "How to Get Published" with authors Jodé Millman, Julia Park Tracey, Matt Witten, and Larry Dudley. I was drawn to the speakers, as each of their areas of expertise captured my interest.
The attendees ranged in age from new writers in their 20s to authors who have been writing for 30 years. "Age has nothing to do with it if you have a good story to tell," Millman said.
The four panelists shared their own experiences with getting published along with some helpful advice. "If you don't think you need an editor, think again. Get it [your manuscript] professionally edited," Tracey advised.
Another aspect they discussed was finding an agent. "My first book was rejected by 30 agents before I found the one. Once I went through those 30 agents, with the one I found, my book then sold within a week," Witten said. Finding an agent (if you decide to take that route) isn't easy. There will be plenty of rejections before someone takes a chance on you. "The process takes a long time. You have to have patience," Dudley said. "Don't let rejection kill you."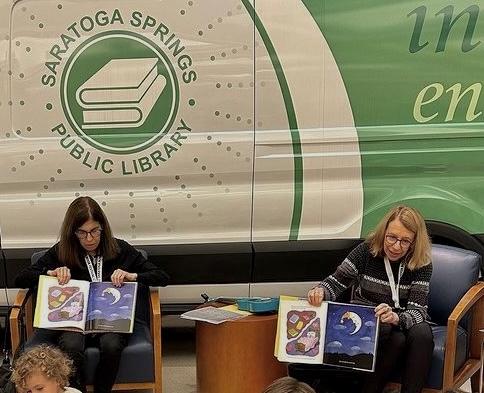 The next panel I caught was a total shift in tone as I headed upstairs for "The Wonderful Quirky World of Patricia Marx and Roz Chast," and oh, was it quirky! Patricia Marx and Roz Chast are a writer/illustrator duo for The New Yorker. The pair began by reading their new children's book, Tire Town.
I found it interesting that the audience was almost completely older adults. That didn't matter, however, as Marx and Chast threw in plenty of age-appropriate jokes and commentary.
The second part of the panel kept me in stitches with the concert of the pair's fictional ukulele band, "Ukelear Meltdown." Marx and Chast brought their own turquoise ukuleles (yes, the color was important) and sang songs they wrote about their new book, the struggles of parallel parking, needing a drink, and taking unlikely service animals to unlikely places. It was definitely the last thing I expected to see at a book festival, but did it disappoint? Not at all.
Their jam session ended with a Q&A where first, the wacky service animal song was explained; Marx faked therapist letters approving service animals including a snake, turtle, alpaca, pig, and turkey so she could bring them to places like the Frick museum (which doesn't even allow kids), Amtrak, a Chanel store, Katz's Deli, the Ritz, and even on a plane, all for a New Yorker piece.
On a more serious note, Chast's final answer to the Q&A particularly stuck with me. Someone had asked how the pandemic had influenced her humor when it came to incredibly anxious moments in time, and she said, "For me, anxiety and humor don't necessarily happen at the same time, but they are connected in a way. Sometimes the only way to handle it is to find it funny somehow."
Saturday also held the Literary Marketplace. There was plenty to offer: books to purchase, literary crafts handmade by local artists, authors signing books, and organizations promoting ways to get your work out there.
Right as I entered, I had to pick up a gorgeous new notebook from Sayde's Handmade Journals. There were a variety of journals in different sizes and designs, hardcovers with fabric designed covers, and paperbacks with hand-drawn art that immediately caught my eye. The artist, Sayde Mayes, explained how they make them: "Every journal is hand-bound by myself, and these paperbacks are hand-sewn," Mayes said. "This is really my best-selling event because everyone here is my target clientele," Mayes said.
Plenty of authors had tables where they were selling and signing their books. Genres available ranged from crime fiction, historical fiction, fantasy, romance, and plenty of children's books.
Another table caught my eye, especially the cover art of the book, The Sparrows Who Dream. Young Adult fantasy author JR Szpila was there promoting their work.
"Book events like these are good ways to learn how to talk to people. It's definitely out of my comfort zone, but here, I have to talk to everyone. It really helps," said Szpila. As a young writer working on networking in the field, I definitely related.
All in all, the Saratoga Book Festival was great. Being able to spend my Saturday surrounded by writers, readers and artists, all sharing appreciation for the same craft was more fun than I had expected. Everyone was so willing to share their work, experiences and advice that really made it feel like a community.
One message clearly came through from the festival: never give up on writing. "If you think you're a writer, you're a writer. Don't let anyone tell you you're not," Tracey said. Attending the festival and speaking to some great authors just made me even more eager to get writing.