So it's true. Back in 2000 (or just around then) Thom Francis & I created another idea after we created Albany Poets as an organization. Something new to the area and something interesting to unite, bring all poets of all styles together from all over NY. And we called it The Albany Word Fest. Back then there were very few poetry festivals around and this was a way to get people to participate and read their work. The 1st Word Fest wasn't in April, National Poetry Month but held in September on a cold day in a place called Thatcher Park. It was a big open mic with groups of poets we invited from different parts of NY State. We had an outdoor area we rented and it was great. We had an amazing turnout of writers and The Word Fest continues to bring them to Albany to this day and year after year. I'm speechless because it's already been 19 years that it's existed which I find hard to believe. The time has gone by so fast. Back then I ran the group and Word Fest as President for a few years but then in 2004, as always my restless spirit took over and I wanted to travel and create even more things as well as write. Thom & Mary Panza kept it all going and with their efforts have made Albany Poets & The Albany Word Fest the backbone and the innovators of the Upstate NY Poetry & Writing communities and have supported all the areas readings, events & scenes. After moving back to Albany I helped out with a few of the festivals. Hosted, read, etc. but I don't think that people realize exactly how much work or money goes into keeping an organization running let alone an annual festival which celebrates something that matters a great deal. Words & Voices. Because they matter. Because your voice matters also.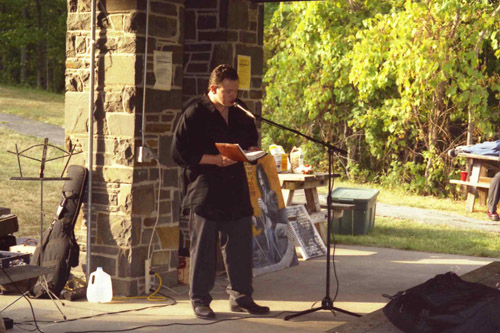 I may have founded, created the ideas of Albany Poets & The Albany WordFest but its legacy continues due to Mary & Thom as well as all of the poets who've attended and supported AP and who have helped to keep the fire going over the years. And without them? Ideas are just that.
Ideas.
So let's face it. I'm a writer, a poet and a guy who has always been able to create events and an audience and make things happen. Promotion is something I've always been good at. My work continues to get published by magazines and with time I've mostly concentrated on just that aspect of my life. Writing. But being a person who's never shied away from letting others know my thoughts or opinions I also think with the 19th Annual Albany Word Fest I'm going to share a few words with you, the readers of this article and those words are simple to discern and understand. One is "Appreciation". A big one. In my opinion, I don't think that there are many of today's younger local poets or writers in the area who truly appreciate or even understand all the support and effort that Albany Poets has given them and their events or venues over the last two decades. Nor do I believe that many area magazines or newspapers since after Metroland's demise have given Albany Poets the due credit where credit is much now overdue. I've read countless stories & interviews over the last several years about poets/events in the area written by journalists who have obviously not done their research or homework let alone who have attempted to badly "rewrite" the actual history of the Albany Poetry Scene and who have put out articles claiming that these people/ poets who are relatively new to the scene have created " THE POETRY SCENE" or something supposedly NEW. Take for instance the Schenectady-based magazine which, in my own opinion, has pretty much ignored what's real locally and the importance of who really did what in the area first let alone who actually made it all happen before their magazine ever existed. Also, unfortunately, the Times Union has screwed up that history as well in the last few years. (Y' see I'm old fashioned because I believe that all good journalists should actually research things first before writing about them) Sorry, but if you aren't telling the truth or know what the hell you're talking about then that pretty much makes your story just crap. So there. I've said it. And honestly, as I've learned so many times over the years will make you enemies. But really? I remain the same. I just don't care. But what I do care about is the truth. As you should also.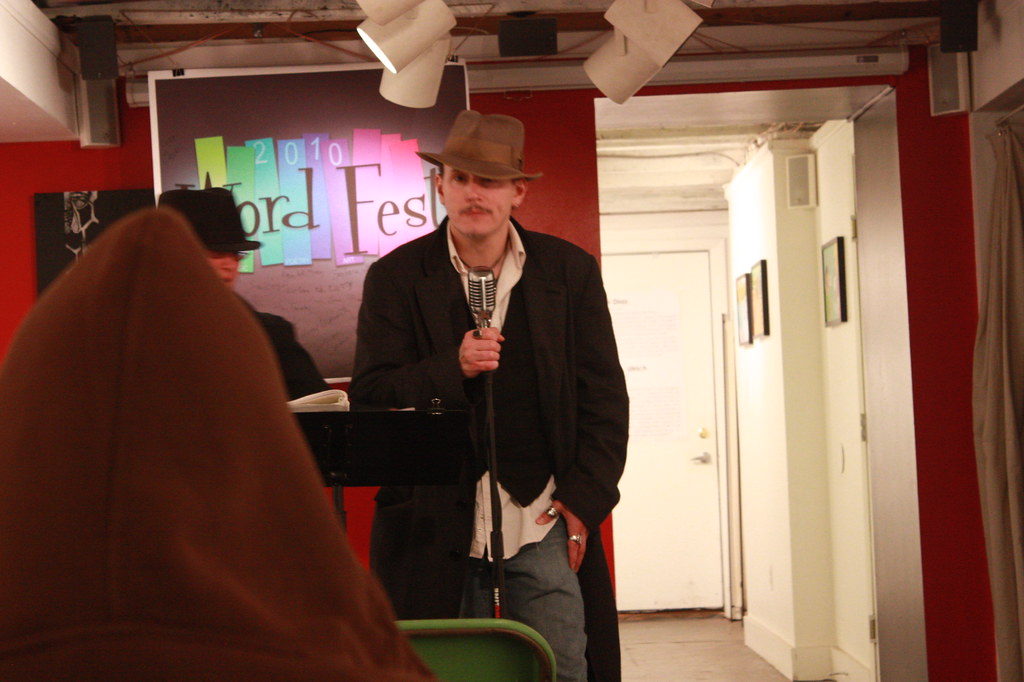 Albany Poets History 101:
So let's talk about the real and not the uninformed local media fabrication of the area's poetry & poets and the notice of their profound contributions. First does anybody even know who Alfred B. Street is? If you don't then look him up. He & his wife were some of the first poets of note who existed in Albany, NY in the 1800s. And although not very famous? They matter. Just like the poets who contributed to the poetry scene in the 1980s & 90s. Tom Nattell who ran the readings at the Qe2 and who was an activist for peace. Paul Weinman who wrote anarchistic poems and who was an amazing performance artist. Dan Wilcox who has hosted one of the longest running open mics for poetry at The Social Justice Center in downtown Albany and who has been writing reviews of open mics for years and who is also a photographer/poet for peace & a Vietnam veteran. Alan Catlin. One of the most published poets in the United States since the 1970s. Yep. These were/are our friends and mentors. These were the poets who actually influenced all of us and we're the co-creators of the literary scene Mary, Thom and myself as well as countless other poets who live in our area (Troy, Albany, Schenectady) are a part of now and who continue the tradition of running poetry readings, open mics and slams to this day. And Albany Poets & The Albany Word Fest are the direct descendants of that very legacy which remains and continues to support all poets and their events. So to all you local journalists looking to do a story on a local poet or local poetry?
There's your real story.
There are now as of 2019 a lot of poetry open mics everywhere around the Capital Region but without Albany Poets since 2000 I doubt very few of them would have been successful or have ever even existed. So think about it. Would you even be reading at poetry open mics if it weren't for Albany Poets? Did you find the first open mic that you ever read at or went to on their monthly calendar or through an email you received?
Most likely.
So you also are a part of that legacy of Albany Poets and all it has helped to create. So keep creating but support the history of local poetry too. Donate. Contribute. Participate. Be a part of something larger than yourself. And most importantly read your poems!
I'll see you at the 2019 Word Fest. This year and hopefully in many more years to come.
(You just can't ignore history)