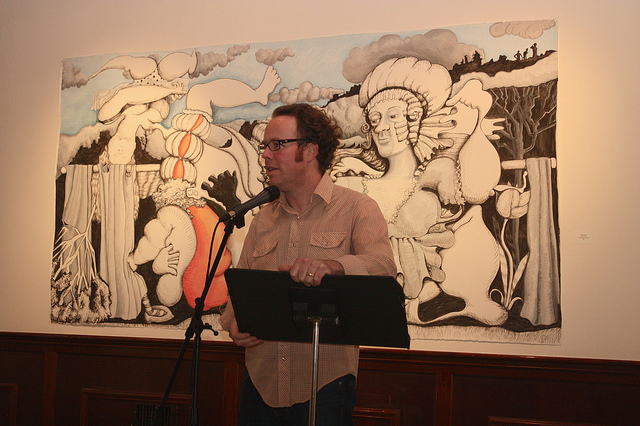 Matthew Klane, James Belflower, and the good folks over at Yes! Poetry and Performance have another great night lined up at the Albany Center Gallery on Friday, February 21 at 8 p.m. featuring Claire Donato, Jeff T. Johnson, and Eric Hardiman.
Claire Donato wrote Burial (Tarpaulin Sky Press), lives in Brooklyn, and collaborates on SPECIAL AMERICA. She holds an MFA from Brown University, and four part-time jobs.
Jeff T. Johnson's poetry has recently appeared in coconut, The Portable Boog Reader, and Forklift, Ohio, and he holds a digital residency at The Organism for Poetic Research. Critical writing has appeared in The Aviary, Poetry Project Newsletter, Sink Review, The Rumpus, and elsewhere. With Claire Donato, he collaborates on SPECIAL AMERICA, and is at work on Trouble Songs: A Musicological Poetics.
Rambutan is the solo vehicle for Albany-based musician Eric Hardiman, who is also a member of Century Plants, Burnt Hills, Mensheviks, and Twilight of the Century. As Rambutan, Hardiman has released a steady stream of quality material on a variety of underground labels since 2007. Subtly bridging realms of noise, dub, psych, drone, minimalism, and musique concrete, Rambutan brings listeners into a unique sonic headspace that finds common ground between bliss and dread. Utilizing various electronics, synthesizers, tapes, guitar, and bass, Hardiman's work is sprawling and wide-angled, yielding deep zones of textural soundscaping that can soothe and unsettle in equal measure. His debut full-length LP entitled "Inverted Summer" was released in 2013 by Fabrica Records (Brooklyn). Eric Hardiman is also co-founder of the Albany Sonic Arts Collective.
Albany Center Gallery is a community-based and community supported non-profit art space dedicated to exhibiting skillful contemporary art of the Mohawk Hudson region, and building a strong, knowledgeable audience for the visual arts.
For more information and up to the minutes updates, check out the Facebook page.