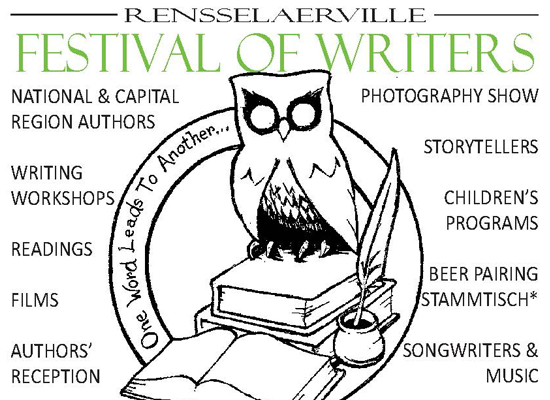 The Rensselaerville Festival of Writers is coming up in just a couple weeks and we have some new information on the intensive writing workshops that will be part of the annual week-long benefit event.
Linda Sonia Miller from the Rensselaerville Library sent along the following:
The Rensselaerville Festival of Writers proudly announces this year's schedule of workshops conducted by prominent writers. Enrollment for the workshops is strictly limited; early registration is strongly recommended. The four workshops to be held Friday, August 16 and Saturday, August 17 offer aspiring writers a significant opportunity to interact with established authors. The festival takes place August 15 – 18 in several venues throughout the idyllic Helderberg hamlet of Rensselaerville, NY. The workshops are highlights of the rich schedule of readings and receptions that make up the event.

2013 workshop presenters are:

Sara J. Henry, author of Learning to Swim and A Cold and Lonely Place. A celebrated mystery writer, Henry has received numerous awards including the Anthony Award, the Agatha Award, and the Mary Higgins Clark Award.

Julia Markus is Director of Creative Writing at Hofstra University. Her first novel, Uncle, received the Houghton Mifflin Literary Award and began a series of well-received books. She has been repeatedly recognized by the National Endowment for the Arts and the National Endowment for the Humanities.

Jan Libby moves storytelling beyond all traditional boundaries, combining writing with alternative reality games to invent a multi-platform fiction blending text with images, video, and sound to expand enhanced ebooks.

Peter Trachtenberg wrote 7 Tattoos: A Memoir in the Flesh and Another Insane Devotion: On the Love of Cats and Persons. "…you will adore this book outright for its scrutiny of the domestic cat in all its cuddlesome glory." – New York Times Book Review. His work appears in The New Yorker, Harper's, and O. Among many distinctions, Trachtenberg is a Guggenheim Fellow.

This summer marks the fourth Rensselaerville Festival of Writers. The event has grown since the first festival in 2009, going annual in 2011 when it won the Upper Hudson Library System's Program of the Year award. Past festivals showcased authors including Andy Rooney, William Kennedy, Galway Kinnell, Jean Craighead George, Candace Christiansen, Nick Flynn,Verlyn Klinkenborg, Francine Prose, and Mary Morris.

Festival proceeds benefit the historic Rensselaerville Library located at 1459 County Route 351 (Main St.), Rensselaerville, NY 12147. For full details, frequently asked questions, and to make reservations, go to festivalofwriters.org. Library telephone: (518) 797-3949.
This year's Festval of Writers features an incredible list of participating authors including Rick Arruzza, Andrew Blackwell, Peter Brickelbank, John Bowe, Sara J. Henry, Dave Hill, Paul Lafarge, Jan Libby, Waltraud Maassmann, Julia Markus, David Rees, Hudson Talbott, Peter Trachtenberg, Sarah Van Arsdale, Hannah Weyer, and Lizz Winstead. For more information on all of the events that are part of the festival, go to festivalofwriters.org.