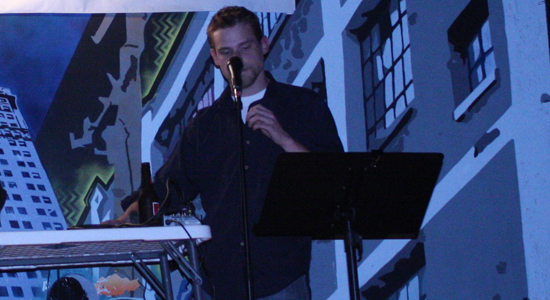 We have another one-two punch of poetry and spoken word coming up next week with Nitty Gritty Slam on Tuesday night (with featured poet Influence) in Albany and then the Caffe Lena Poetry Open Mic in Saratoga Springs on Wednesday night. This month the featured poets are (myself) Thom Francis and Lynn Ciesielski.
This is my second time being the featured poet at this great, long-running open mic series and I am honored that Carol has invited me again. Both of my featured performances have been scheduled around pretty significant dates in my life. The last time I was featured in Saratoga was a couple of years ago on the 4th of July (my favorite holiday) and this time around it is a couple of days before my birthday.
In case you do not know me or what I do, here is my bio, the condensed version:
Thom Francis is the president of Albany Poets and has been hosting open mics and poetry / spoken word events in Albany such as Nitty Gritty Slam, School of Night, Albany Poets Presents…, and the Albany Word Fest for over 10 years. As a poet and performer, Thom has been featured at many of the upstate poetry and spoken word open mics and readings from Saratoga to Woodstock as well as Banned Books Week, LarkFest, Art on Lark, 1st Friday, the Albany Word Fest, and other arts, poetry, and literary events in the area.
For this holiday season evening of poetry and spoken word the second featured poet will be Lynn Ciesielski from Buffalo, NY.
Lynn has a Master's Degree in Exceptional Education from SUNY College at Buffalo.  She spent eighteen years teaching full time in city schools. For another five years she worked part time as an instructional aide in group homes for disabled adults. Currently, she is retired and focuses most of her energy on her poetry. Lynn is a newlywed, the mother of a lovely grown daughter and grandmother to two delightful little boys. She loves the outdoors, especially waterfalls and oceans.  She travels as often as she can but Lynn loves people even more than the physical world. Family and friends are the most delightful aspects of her life.

Lynn Ciesielski "draws us into an almost surreal, private place where 'secrets hide like butterflies in moonlight'. Her thoughtfulness and relentless tenderness offers up 'a cup of something' for poets and non-poets, lovers of the word and the world." (Perry S. Nicholas, Erie Community College North) In addition to live readings, Ceisielski's poetry has been included numerous print and online periodicals. Her beautiful new hand-sewn 40-page chapbook, I Speak in Tongues, was published by Foothills Publishing in 2012.
The Caffe Lena Poetry Open Mic happens on the first Wednesday of each and every month at the historic Caffe Lena in Saratoga Springs, NY. This great, long-running poetry event is hosted by Carol Graser. Sign up is at 7:00, the open mic begins at 7:30. There is a $5.00 admission.
For a bonus, here a video of Murrow (Keith Spencer and myself) performing "Radio Man"  during the Albany Word Fest at the UAG Gallery on April 18, 2009