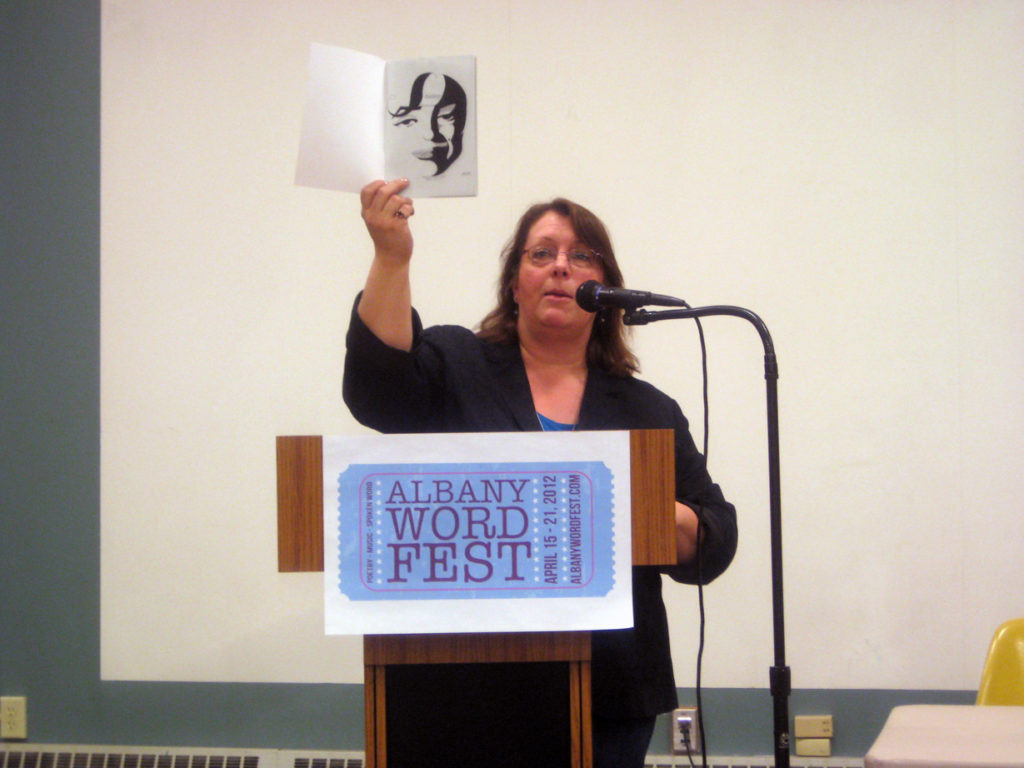 Cheryl Rice, the poetry diva of Kingston, just picked up more copies of her new book, "My Minnesota Boyhood" and she is ready to sell them to you. These collections of poetry are handcrafted by local small press publisher Dayl Wise at Post Traumatic Press.
If you do not know about Cheryl Rice and all that she does, here is a quick rundown:
Cheryl A. Rice's work has appeared in Baltimore Review, Chronogram, Florida Review,  Home Planet News, Mangrove, Metroland, Poughkeepsie Journal, The Temple, Woodstock Times, and in the anthologies Wildflowers, Vol. II (2002: Shivastan Publishing),Riverine (2007: Codhill Press) andFor Enid, With Love (2010: NYQuarterly). She is the author ofA Thousand Candy Vaginas: Poems 1989-1995 (1997, Palaver Press), Aleums (1999, Flying Monkey Press), Egypt (2001, Flying Monkey Press), Nobody Slept Last Night (2003, Another Poor Bastard Productions, CD),Auction (2004, Flying Monkey Press; 2nd edition 2010), Girl Poet (2007, Flying Monkey Productions, CD), Roses: three poems (2011, Flying Monkey Press), and Outside (2011, Flying Monkey Press). Founder and host of the Sylvia Plath Bake-Off, Rice has held her RANDOM WRITING workshops throughout the Hudson Valley, where she has lived for over 30 years, after growing up on Long Island.
As many know Cheryl is one of the leaders and driving forces of the poetry scene in the Hudson Valley. She has hosted open mics, events, and workshops all over the region for many years, keeping the the art alive in upstate New York. And now is your chance to take a little bit of Cheryl home with you with this great new book, which I heard has been appearing on the desks of major players in the poetry world.
Here is what Cheryl says about the book:
"MY MINNESOTA BOYHOOD" is a collection of poems based part on fantasy, part on raw reality. In it, I compare my own upbringing on Long Island in the late 1960s with that of a friend's who was raised at the same time in the hinterlands of Minnesota. Home Planet News publisher Donald Lev said of MY MINNESOTA BOYHOOD, "…with a novelist's skill, [Rice] carves ice, water and fish into Moby Dick-like metaphor that sinks deep and stays…"
"My Minnesota Boyhood" is available from Post Traumatic Press (PO Box 544, Woodstock, NY 12498) or from Cheryl herself at Flying Monkey Productions, 16 S. Farrelly St., Kingston, NY 12401.