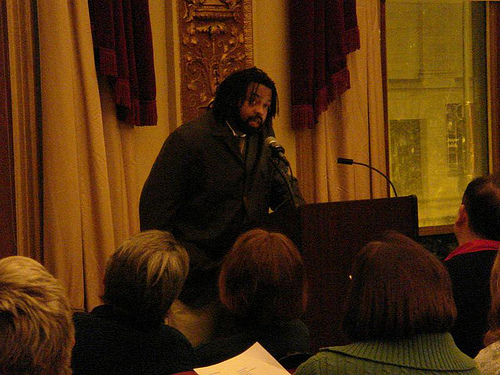 Daniel Nester is wrapping up another great season of the Frequency North series at the College of St. Rose on March 29. Over the past seven years Dan has brought some of the greatest writers, poets, and performers from all over the world to Albany to educate, enlighten, and entertain.
Here is the information that Nester sent out announcing this great event:
The 2011-12 "Frequency North" visiting writers reading series at The College of Saint Rose draws to a close on a different note with poet/educators Georgia A. Popoff and Quraysh Ali Lansana discussing their guide to poetry in the classroom and community.

Popoff and Lansana will visit and read Thursday, March 29, at 7:30 p.m. in the Saint Joseph Hall Auditorium, 985 Madison Ave., Albany. The program is free and open to the public.

This event is presented as part of Social Justice Week 2012.

ABOUT THE AUTHORS
It has been 30 years since the last publication of a book suitable for K-12 classrooms that explores poetry as a vehicle for social justice. With Our Difficult Sunlight: A Guide to Poetry, Literacy, and Social Justice in Classroom and Community (Teachers and Writers Collaborative, 2011), Lansana and Popoff share the results of nearly two decades in classrooms and community-based settings across the country.  Our Difficult Sunlight is intended to support both teachers and teaching artists with the aim to aid them in recognizing the value of poetry as a vehicle to access meaning/inference, cross-curricular applications, acceptance of others and self-identity. Book website: http://www.twc.org/publications.

Lansana is the author of five poetry books, a children's book and editor of seven anthologies. He is director of the Gwendolyn Brooks Center for Black Literature and Creative Writing at Chicago State University, where he also is associate professor of English/creative writing. A former faculty member of the Drama Division of The Juilliard School and a former Reading/Language Arts editor for three of the nation's largest educational publishers, Lansana has been a literary teaching artist and curriculum developer for two decades.

Popoff is the author of two collections of poetry, a teaching artist, arts-in-education professional development specialist, managing editor of Comstock Review, a Syracuse Downtown Writer's Center faculty member and former board member of the Association of Teaching Artists. Popoff is poet-in-residence in numerous school districts and teaches adult writing workshops.

ABOUT "FREQUENCY NORTH"
"Frequency North" is the brainchild of Daniel Nester, an associate professor of English at Saint Rose. In creating the series in 2006, he purposely designed it to be "aggressively eclectic." In addition to teaching, Nester is the author of How to Be Inappropriate (Soft Skull Press, 2009), God Save My Queen (2003) and God Save My Queen II (2004).

Frequency North will return for its eighth season in fall 2012.

For more information, visit www.FrequencyNorth.com or contact Daniel Nester at danielnester@gmail.com.