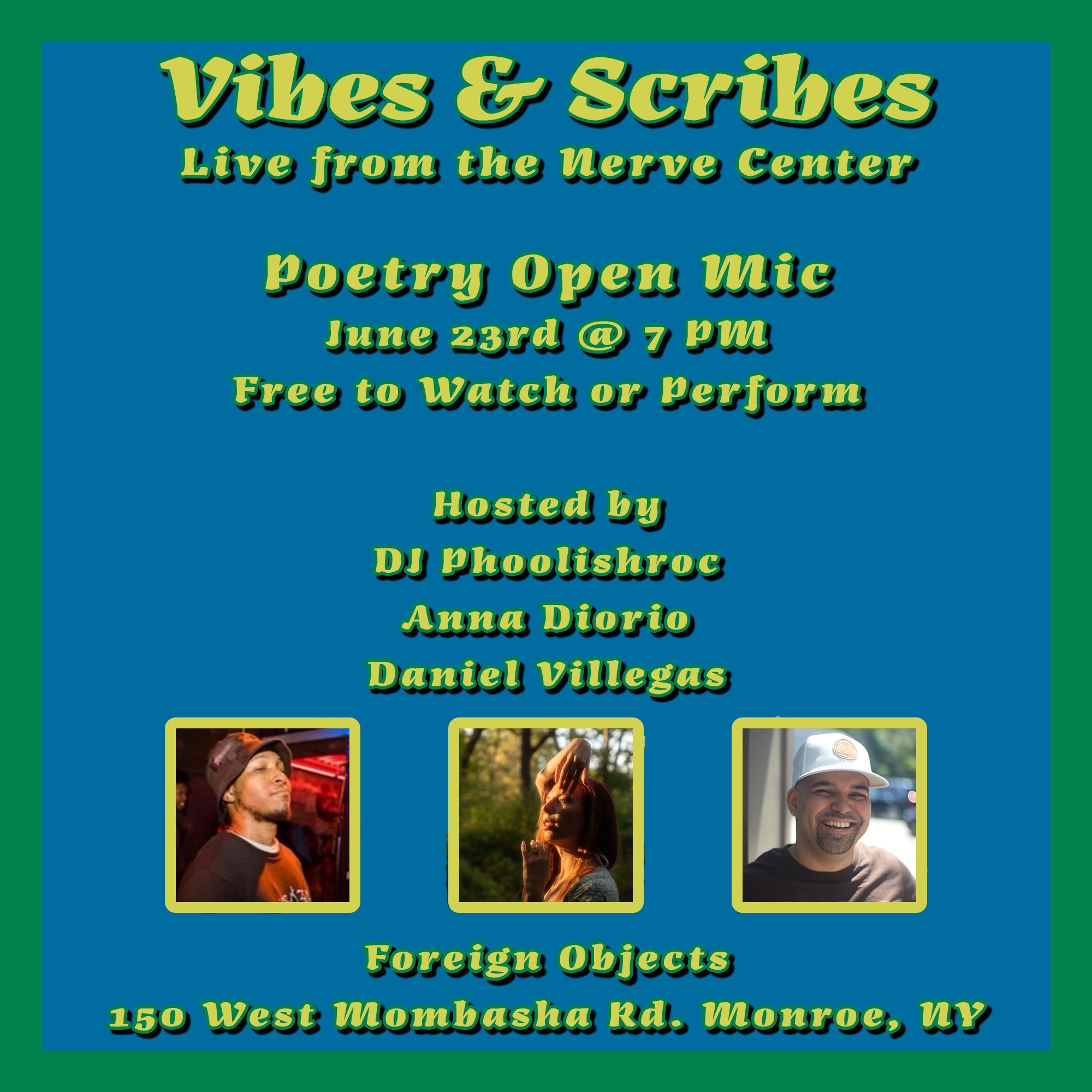 Vibes & Scribes Poetry Open Mic at Foreign Objects Nerve Center
Vibes & Scribes : Poetry Open Mic
Live from the Nerve Center
June 23rd, 2023 at 7 PM
Foreign Objects Nerve Center – 150 West Mombasha Road, Monroe, NY
Featured performances by Anne Diorio and Daniel Villegas
Music by DJ PhoolishRoc
Free to Perform | Free to Watch
Sign up to perform at [https://docs.google.com/forms/d/e/1FAIpQLSeCKJ3acGcrdsIv-7BoGS96GodbW0tO007G9h3z0DypXDjSxQ/viewform]
Anna Diorio (fka Happy Accident) is an emcee, singer, songwriter, pianist and transformational educator. Hailing from a long lineage of Jazz musicians, Anna began playing piano at 5 years old, singing jazz standards at 11 and writing poetry as a teenager
[http://www.Annadior.io]
Daniel Villegas is a bilingual spoken word poet and Emcee who uses Hip Hop and poetry to uplift and balance
Phoolish ROC is a street dancer and mixing artist from BKNY who uses house beats to create a flawless atmosphere.
LNH Studios is the production brainchild of Reena Ezra, Brendan O'Brien and Jordan Fried. They produce live variety shows, scripted content, reality series and podcasts.
In early 2019, Reena Ezra, Brendan O'Brien and Jordan Fried met performing comedy in Suffern, NY. They realized they had a passion for comedy writing and decided to put on their Circuit Break Comedy Variety Show. After the success of that show, they looked for a new venue to put on a Wednesday night comedy show. They seemed to have a location for this show at the now defunct Nocturnal Muse Art Gallery in Nyack, NY (replaced by the beautiful Shelly Luan Gallery). The working title for the show that never was was Late Night Hump, and although the show never happened in its original form, Reena, Brendan and Jordan have been creating and producing together under the moniker @latenighthump ever since.