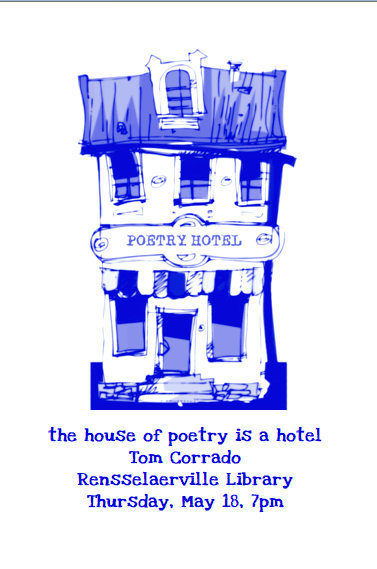 The House of Poetry is a Hotel
Tom Corrado will discuss "The House of Poetry is a Hotel," as part of the Rensselaerville Library Thursday evening Talk Series.
I'll be talking about poetry, specifically, Contemporary American Poetry – with examples – what it is, its vast inclusivity of voices, styles, & subjects, all of which works to dispel the mystique of the masterpiece or what Eileen Myles calls the "pretense" of the craft, touching upon the so-called "New Poetry" as defined by Harvard Prof Stephanie Burt, then going into the making of a poem, & finally plotting the evolution of my poetry from Screen Dumps to Particulars to Modular Poetry. All of this is in the 70 points in the attached booklet, which I have made available – free of charge – to all Rensselaerville Library patrons, not only the "few" (lol) who may show up for my gig! Of the 70 points, these are the signposts:
Point #
I use the metaphor of a hotel to show that the house of poetry is huge, with rooms for all types of poets and all flavors of poems.
Say what? . . . LANGUAGE . . . is a tool, an organic, limited system of symbols for communicating ideas.
Poetry is words. Every word weighs.
Words trigger images . . .
TO MAKE A POEM . . . YOUR THOUGHTS? . . .thoughts > ideas > words > poem
Talk to yourself or to an imaginary someone about something . . . an event, an experience, an observation, a feeling. Jot it down as you go along.
Dispel the mystique of the masterpiece . .. Keep it simple. Go easy on big words, adjectives, the definite article. Don't worry about making sense, making a point, unearthing a truth, resolving an issue, solving a problem. Don't sweat grammar or spelling. Jot down your thoughts, your whatever. Thinking, like life, is messy; it's not a neat package. Don't be intimidated. Have fun!
You can put anything in a poem. Nothing is irrelevant. – Eileen Myles
We blunder along. Trying to make sense of it all. Trying to connect the dots. Imposing meaning on the endless parade of impressions, the constant flow of images. Thinking and discovering and remembering and forgetting. Using our limited tools to convey our thoughts, to spin our yarns. I'm trying to portray this – the experience of experience – in my poetry, filling my poems with haphazard memories, scraps of conversation, the inner mumbo-jumbo of the mind, life's buzzing distractions. I'm interested in the limits of language, in teasing the edges of functionality. I'm not interested in linearity, in telling a story, in dispensing bromides, in picture-perfect representation.
A RECORD OF MY THINKING . . . A poem for me is a chunk of text composed of discrete, non-linear lines portraying the natural movement of the mind, the activity of thinking.
I found that the non-linear chunks could be chunked. I call these chunked chunks,particulars,lifting the term from Shakespeare's Henry IV: Do thou stand for my father, and examine me on the particulars of my life.
This led me to what I call Modular Poetry. A modular poem is made up of discrete lines that can be remixed, rearranged, chunked into different combinations . . . read in any order . . . up, down, in, out, forward, backward, beginning anywhere, ending anywhere, sequentially, non-sequentially, individually or as one continuous text . . .