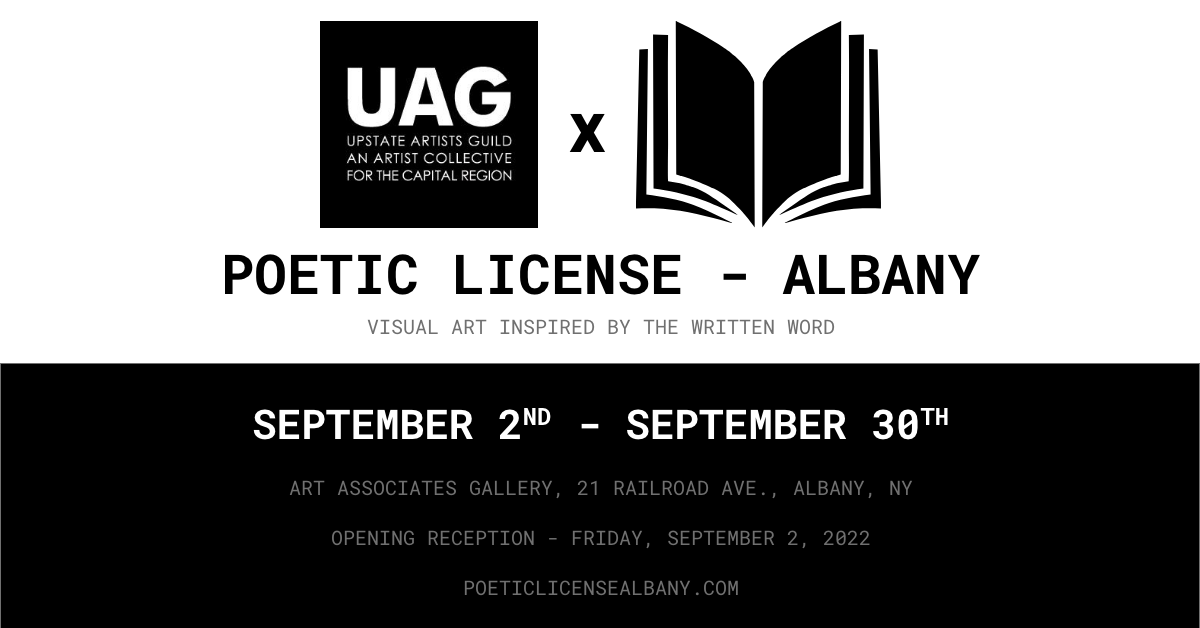 Poetic License – Albany Opening Reception
"Ekphrastic art" is defined as the response of an artist in one medium to a work of art by an artist in another medium. Its more common manifestation is in poetry written about visual art, e.g., paintings, photographs, drawings, sculptures, etc.
Poetic License is a project that turns that around, giving local visual artists (Onna Adams, Lucia Mabel Smith, Rebecca Schoonmaker, Don Shore, Deborah Adams, Tina Johnston, Kali Engelhardt, Melissa Mansfield, Tom Corrado, Roja Ebrahimi, Natasha Pernicka, Adam Furgang, Nina Stanley, Robyn Diaz, and Katelyn Choiniere) an opportunity to respond to the work of local poets (Shawna Norton, Bessie Rose, Tom Corrado, Shirah Pollock, Barbara Ungar, Laura Whalen, Megeen Mulholland, Cheryl A. Rice, Mike Jurkovic, Laura Lee Lucas, Phyllis Capello, Randall Sutter, Jennifee, Brian Liston, Jill Crammond, and Charles Rossiter).
These works of art will be on view through September at Art Associates Gallery, 21 Railroad Ave., Albany.
Light refreshments will be available. Donations are appreciated and proceeds will go to the gallery. Art and books will also be available for purchase throughout the exhibition.
There will also be two readings during the month of September at Art Associates Gallery featuring the poets who participated in this project.