Planetary Motions, a new book of poetry from Hudson Valley writer William Seaton, was recently released by Giant Steps Press. The book includes lyrics written since the author's last collection Spoor of Desire, including for the first time Seaton's sound poems, which he calls "adult nursery rhymes," as well as translations from German, Greek, Latin, and French.  In the foreword, Seaton describes his works as "snapshots of consciousness reflecting glints of shattered truth which I wave in the dark like a blessedly naïve child with a sparkler."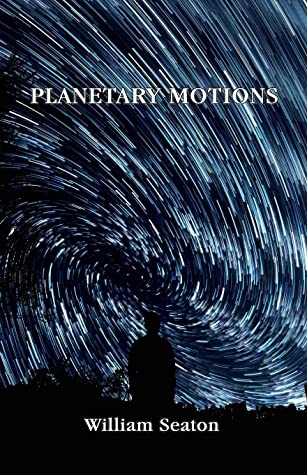 In advance reviews, Kirpal Gordon praised "the music these poems make and the momentum they create" with a "just-soness of phrase and sound."  Steve Hirsch said Seaton reveals "new heart-treasure and insight into who we are."  For Janet Hamill "he establishes an elegant pattern with this kaleidoscope of words."
From far-flung corners of the globe and back corridors of the brain, Seaton has gathered the materials for these poems, his first full-length collection since Spoor of Desire. With an ear for the music that in part defines verse and a variety of cadences from a soft lyric strain to declamation, Seaton pursues the post-Beat apocalyptic horizon in these belated twenty-first century American days.

The poetry in Planetary Motions occupies the liminal zone between the street and the academy, between colloquialism and rhetoric, between whimsy and gravity. This new collection includes views of everyday life and of exotic scenes lit with glimmers of prismatic reflection and refraction – but it also collects for the first time some of his sound-based poems, translations of poems ancient and modern, and the liturgies of the Lama Swine Toil, Surrealist chaplain.
William Seaton is a poet, critic, and translator, the author of Spoor of Desire: Selected Poems and Dada Poetry: An Introduction. His work has appeared in several earlier collections as well as in journals including Home Planet News, Poetry Flash, Mad Blood, and Chelsea. From his participation in sixties happenings through his long-running Poetry on the Loose Series and his recent Surreal Cabarets, he has regularly produced performance and community-based events.
Founded in 2011, Giant Steps is a small New York City press named in tribute to the classic John Coltrane album, specializing in publishing books on jazz and jazz-influenced poets.  Though a collective, Giant Steps is fronted by author and spoken word performer Kirpal Gordon.
Click here for an interview with William Seaton about the book.