The next gathering of the Woodstock Poetry Society takes place this coming Saturday afternoon at the Golden Notebook starting at 2 p.m. Host Phillip Levine has two great poets, J. Camp Brown and Raphael Kosek, lined up as the featured readers for this great Hudson Valley poetry series.
Here is more info from the host himself:
Woodstock Poetry Society & Festival as part of the Woodstock Arts Consortium is sponsoring the following poetry event as part of the Woodstock "Second Saturdays" Art Events. For a full listing of "Second Saturday" events, see: www.artsinwoodstock.org.
Poets J. Camp BrownJ. Camp Brown and Raphael KosekRaphael Kosek will be the featured readers, along with an open mike when the Woodstock Poetry Society & Festival meets at Golden Notebook (Upstairs), 29 Tinker Street on Saturday, March 12 at 2pm.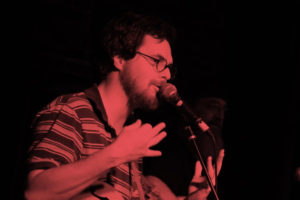 J. Camp Brown has received fellowships from Phillips Exeter Academy, where he was the George Bennett Writer-in-Residence, from Ole Miss, where he was a Grisham Fellow, from the Univ. of Arkansas, where he took his MFA, and from the Arkansas Arts Council. Brown's poems have appeared in Crazyhorse, Black Warrior Review, Shenandoah, Spillway, Sonora Review, Epiphany, Rhino, and elsewhere. Hailing from Fort Smith, AR, he now plays mandolin, sing tenor, and teaches English in Poughkeepsie, NY.
Raphael Kosek's poetry has appeared in numerous journals and magazines including Still Point Arts Quarterly, Commonweal, Big Muddy, The Chattahoochee Review, and Catamaran. She is a life-long Hudson Valley resident where she graduated from Vassar College and now teaches American lit and creative writing at Marist College and SUNY Dutchess Community College.  Arts Mid-Hudson has twice awarded her fellowships for her poetry, and her poems have placed first, second and been shortlisted in international contests. Her 2009 chapbook, Letting Go, was published by Finishing Line Press, and her new chapbook about art and life, Rough Grace, won the 2014 Concrete Wolf Chapbook Competition. She has written and published many ekphrastic poems, finding inspiration in the paintings of Homer, Rousseau, Inuit stone cut prints, and many others.

For further information on this great, long running series, contact Phillip X Levine (845)246-8565 or email: pprod@mindspring.com.
[location post_id="14339″]
#_LOCATIONMAP
#_LOCATIONNAME
#_LOCATIONADDRESS
#_LOCATIONTOWN, #_LOCATIONSTATE #_LOCATIONPOSTCODE

[/location]